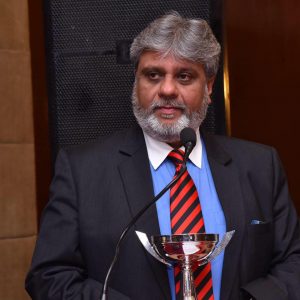 Anand Dewan carries more than 25 years of experience across line & support functions. He is acknowledged for his contribution to Indian Training industry for developing & further sharpening skills of some of the finest training talent in the country during his role as head of L&D for one of the country's largest training company in early 2000. He has been recognized by World HRD Congress as 25 most talented global leaders in the field of L&D in the year 2014. Under his leadership, Kotak won special commendation award at prestigious Golden Peacock National Training Award in its very first attempt in 2014. Founder Jury member of CII National Award for Excellence in HR & Training. Has exposure to training delivery across geographies, having delivered session in London, Egypt, Oman, Thailand, Kuwait. He is a Master Coach and Consultant on InsideOut Performance Coaching Methodology, A Certified OD Practitioner from Indian Institute of Organizational Development, Lead Facilitator & Consultant for Culture Track from Partners in Leadership USA and a facilitator on 5 Behaviors of Cohesive Teams.  
He has served as Head of Intellectual Capital Base – NIS Sparta
Head Talent Management Reliance Retail
Founder – Head Business Impact Group & Learning Architecture
Current Role – Group Chief Executive Officer BYLD  
---
How important is Performance Management (P.M.) in today's high-flux organization?
In my view, business has been & will always be, about two most critical factors, finance, and people. (I personally believe that to manage your blood pressure BP you must manage your  Business as in finance and people well). I would go to the extent of saying that finance is relatively easier to manage for its availability and predictability but the same is unfortunately not true for people. While predictability has always been a challenge, be it performance, loyalty or application of intelligence but in today era availability has become a bigger concern.
In a speech at Harvard University in 1943 Winston Churchill observed that "the empires of the future will be empires of the mind." He might have added that the battles of the future will be battles for talent.
With this as the background, its imperative for corporates to ensure that they not only deliver the best with what they have but at the same time ensure an environment that incorporates & enables dynamic performance management culture. If one were to look at this from a shareholder/investor point of view a good performance management system is as crucial as a good management board of the organization.  It's not uncommon for an investor to incorporate PMP as part of while evaluating the organizations.
Whose responsibility is Performance Management?
There are two key stakeholders to this, while HR needs to ensure best in class, dynamic framework for PMP the leadership needs to be the custodian along with being accountable for execution.  
What are the key gaps in current industry practices in managing employees' performance?
Let me begin with some data points here, as per a survey done by PIL Partners in Leadership on workplace accountability, this is what respondents shared:
Are the key results defined and understood throughout your organization?
Yes – 15%
No – 85%  
Do priorities change frequently creating confusion around key results you need to achieve?
No – 13%
Yes -87%  
The list can be endless however to focus & simplify let me share my perspective from three different types of organizations S&ME, Mid & Larger Cap  and MNC
S&ME – Still at the very nascent stage of performance management, however, they are beginning to wake up to the reality of dynamic business environment, which has a low tolerance for traditional performance practices. As a result, we see a lot of them talking about change, transformation, re-engineering etc. having said that this segment is still very skeptical of taking bold and decisive steps & in my view the action is directly proportional to survival challenges in business. Hence the increasing pain of low productivity & profits governs the need & speed of the decisions around scouting for best practices in PM. To sum, they are still at a stage of identifying a suitable role-based competence matrix as the first step in this direction.
Mid & Large Cap – these organizations can further be broken into two categories, at one level those who have realized the importance but chosen to put money to the problem hoping to solve it, I call this the spray and pray model.  These organizations believe that once they have bought the package rest will work automatically. On the other side, we have organizations that have passed the stage and coming at par with organizations that have evolved people capability & maturity practices. These organizations have benchmarked themselves against the best in class within their industry, hired consultants to advise and help deploy systems and processes to build a dynamic Performance Management System and have a collaborative, committed leadership that drives execution.  
Having said that in spite of crores already invested one critical gap that still exists is the alignment of PMS with business goals, one of the most critical expectation that corner office has of HR is to be able to see the view from there horizon however for various reasons there is a concerning gap in this area. To give an example most businesses have a detailed two to a three-year business plan worked out to the T, however whenever I have asked a question whether they have an equally detailed plan for developing people and culture to meet the future needs of business? answer draws a blank, hinting towards an assumption that in today's high flux business environment the skill set of today will serve the business the business of tomorrow.
Multinational Corporations – now this is where most benchmarking comes from. These organizations having broken several orbits in business growth and operating in diverse geographies have learned through first and second-hand experience, the need for a good PMS to not just grow but stay competitive in today's business environment. They are not just ready for today, but the PMS strategy incorporates future readiness as well, which covers the entire employee lifecycle from hiring to retiring. The process incorporates critical factors like succession planning, role-based learning facilitation, transparency in the evaluation process, regular feedbacks, rewards and recognition, compensation and most important in today's environment an organization-wide coaching culture. The only caution these organizations need to have is that processes should enable business and not visa-versa. More often than not we see how organizational agility and dynamism suffers which eventually makes it difficult for them to compete in the global arena.
Other than better pay or job roles, what are the main reasons why people change jobs?
Well, the age-old one "people don't leave companies they leave bosses" still remains number one. Loyalty in today's job market is history with fading traces, an average person changes 10-12 jobs in his/her career's span, so in that sense attrition is a given, what needs focus is how much and at what levels. One of the key reasons besides the one shared above why people level jobs is better prospects. So what the message they are leaving behind, that the current organization and role did not meet that expectation of future. While in some cases that may be true but more often than not its, not the situation is that the company did have plans for them however they lacked the machinimas to communicate the same to an employee. By the time this is discovered its already late & damage done.
What makes an effective P.M. programme? Any best practices to share. 
In my view, an effective Performance Management Program should stretch from Onboarding to Superannuation. This includes that the employee must know what role he/she has been hired for, what is expected from the role as in key deliverables / goals, what are the critical KSA Knowledge Skills & Attitude required to deliver on the job, how will they get assessed and on what, regular feedback on performance, rewards & recognition are some of the essential of a good PMP.
To look at some of the best practices
Minneapolis food producer and distributor Cargill Inc. were struggling to engage and motivate its 155,000 employees worldwide. It became a true trendsetter in 2012 when it introduced its "Everyday Performance Management" system, designed to incorporate daily encouragement and feedback into on-the-job conversations. Cargill says it's seen measurable improvements after managers began giving constructive feedback that was forward-looking, instead of reviewing what had happened in the past.
Probably one of the most talked-about cases in the spate of performance management revamps, Adobe has already generated the statistics to prove that regular feedback and check-ins make sense. The company has cut voluntary employee turnover by some 30% after introducing a frequent check-in program.
What's more, Adobe reports that "involuntary departures" have risen by 50% because, according to SVP for people and places Donna Morris, the new system "requires executives and managers to have regular 'tough discussions' with employees who are struggling with performance issues—rather than putting them off until the next performance review cycle comes around."
Accenture is abandoning the annual review in exchange for a solution that's simply more accurate. As one researcher with the firm CEB told the Washington Post, reflecting on Accenture's move, "Employees that do best in performance management systems tend to be the employees that are the most narcissistic and self-promoting."
Accenture's new model is designed to better chart the ongoing performance discussions between employees and their managers. Accenture had been quietly preparing to revamp up to 90% of its old methodologies with a new process it began rolling out in September 2015. The company is shifting focus to immediate performance development, rather than an annual forced ranking based on the past year's metrics, and is using an internal app to help those within the organization relay feedback.
Google's performance management philosophy has always been fairly non-traditional. Formal rankings have never been a part of the company's process. Instead, employee goal-setting has been a part of Google's DNA since the beginning. KPCB's John Doerr originally brought a new style of goal setting, using objectives and key results (OKRs), to Google (from Intel).
---