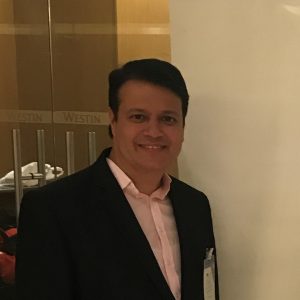 Colin Mendes is General Manager & Head Human Resources for the Domestic Projects Group at Voltas, India's largest air conditioning company, and one of the world's premier engineering solutions providers and project specialists.
In his current role, Colin manages Human Resources, Capability Building, Compliance Management and Safety Health & Environment. Prior to joining Voltas, he was responsible for facilitating several HR initiatives that include the Tata Group Remuneration Forum, Executive Compensation & Capability Building programs in the area of Rewards at Group
HR, Tata Sons.
In his earlier assignments, Colin has worked across varied industries viz., Telecom, ITES, FMCG & Pharmaceuticals covering various facets of HR at the operational and strategic level. He has held senior leadership positions with Tata Teleservices, WNS Global Services, Bharti Airtel, Hindustan Unilever & Pfizer with specific exposure in people & change management during Mergers & Acquisitions.
Colin holds a Bachelors Degree in Commerce and is also an MBA.
His expertise has been regularly sought at conferences, forums, institutions & knowledge centers like CII, NHRDN, SHRM, World HRD Congress, NMIMS, XIMB etc who regularly invite him to share his perspective.
Colin has also been recently recognized at The Great Manager Awards 2017 in the category – Aligning Organisation Vision hosted by People Business & Economic Times.
Colin loves to travel and explore new geographies. He also enjoys various genres of music & loves singing.
---
How important is Performance Management (P.M.) in today's high-flux organization?
Traditionally, Performance Management has been only linked to employees annual performance appraisal or review. In today's dynamic environment, as the war for talent intensifies, with the need to stay above the curve, organizations must be constantly evolving & improving. It is therefore imperative that we move to an ongoing and well-constructed process. Organizations, who have understood their people & environment conditions, have moved from an annual performance review process to continuous performance management. Research indicates a direct correlation of this practice to increased
productivity and better financial returns.
In today's environment, where not only is the market demanding for more but it is important that one keep their people always in a performing mode through both formal and informal process of continuous performance management. This serves as an early indicator of potential risks and in an agile environment, managers need a tool to make sure they are weeding out the issues and navigating the organization in the direction of achieving their metrics of success.
Whose responsibility is Performance Management?
From creating a platform to providing an environment, I believe to successfully establish this process we all have a critical role to play. Performance Management starts from the top by tailoring strategies which can be translated into meaningful targets and trickles down to managers for setting goals & making this process effective by helping them understand the big picture and owning up careers of their team members.
I can relate this to a LEGO game where even the smallest piece in the game has a role to play. With patience, structured approach and aligning the steps brick by brick, we present to an employee a process on which they can put their faith, own it up and see empowerment which is given to them to drive.
What are the key gaps in current industry practices in managing employees' performance?
While you can build a strong process, lack of ownership can bring down even the smartest process. In my views when your employees are not able to see relevance and alignment, your process will have gaps. Implementing it to the last mile by showing the purpose and imbibing ownership across levels are the biggest gaps in the process.
Other than better pay or job roles, what are the main reasons why people change jobs?
It depends upon the target population and industry you are dealing with, millennial would have much reason to leave & to make them stay, one needs to be quick in giving them directions & decisions, showing them a career path & growth and providing work-life balance. Conversely, GenX is mostly looking for stability and greater responsibilities & complexity.
Employees are constantly seeking their purpose and we as an organization must be able to provide a linkage to their purpose failing which this could lead to attrition.
Nowadays, one of the top reasons of attrition across generation has been on account of work-life balance. A millennial seeks to balance their social time while Gen X seeks time to be spent with their families. This is a trigger for us to go back to the drawing board, revisit our practices & ask ourselves -Are we adequately enabling our employees to seek balance and find purpose in their work?
What makes a really effective P.M. programme? Any best practices to share.
Challenge the status quo & break this annual myth which comes in the mind of employees as soon as the Performance Management is announced. Convert your annual process into a regular easy to monitor & evaluate the technology-driven process to create an effective Performance Management programme.
Performance Management should be able to identify talent, enable development and inculcate ownership, with this I believe the Performance Management process can create more impact.
---