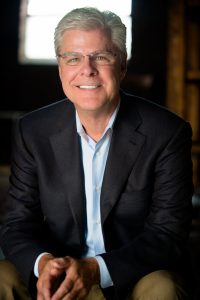 Joe Calloway helps leadership teams with ideas and strategies to create breakthrough success.  He gets organizations focused on what is truly important, inspires new thinking about challenges and opportunities, and motivates people to immediate action.  
Joe is a business author, consultant and speaker on leadership strategies and organizational culture.
Joe is the author of Be the Best at What Matters Most and six other ground-breaking business books including Becoming A Category of One: How Extraordinary Companies Transcend Commodity And Defy Comparison, which received rave reviews from The New York Times, Retailing Today, Publishers Weekly and many others.  
His newest book is  Keep It Simple – Unclutter Your Mind To Uncomplicate Your Life.
Joe served as Executive In Residence at Belmont University's Center For Entrepreneurship. He is a Principal with The Disruption Lab, a consulting group that helps corporations with innovation and disruption strategies.  
Joe has presented at business conferences in countries around the world including Italy, Sweden, South Africa, England, Swaziland, Canada, Mexico and throughout the Caribbean.  
Joe is a popular speaker for business meetings and events, and although he has been inducted into the Speakers Hall of Fame, he doesn't do traditional "speeches."  Instead, Joe actively engages people in highly interactive keynotes and workshops that challenge assumptions and create new ways of thinking.
---
What does organizational culture mean to you?
I believe that the most effective ideas are the simplest. It's easy to make the concept of organizational culture complicated. It's harder to make it simple. But if you make the idea of culture simple, you can get much greater buy-in from employees. To me, organizational culture is a combination of "what's truly important to us?" and "how do we behave with each other, our customers, our business partners, and the community at large?" In some ways, I think that you can say that culture is what it "feels" like to work here. Success is, of course, when the written or stated culture matches what it really "feels" like to work here.
What are the major determinants of organizational culture?
First, we must recognize that you can't "not" have a culture. The question is whether your culture is by design or whether the culture simply happens organically and there is no real intention around it. For the designed, or intentional culture, the determinants can come from leadership, from the employees, or from a combination of the two. Many organizational cultures flow from the founder(s) and what was important to them in terms of values and behavior. I've also worked with companies that enlisted significant input from employees about what the culture should be. My experience is that the most effective cultures are largely determined by the most senior leadership, but with an acute awareness of employee feelings and input.
A key responsibility of leadership is communication. The most effective senior leaders I've worked with all share a philosophy of "we know what is important here, and we talk about those things all the time." One CEO said that he didn't feel he was being a good leader until his employees began making fun of him for saying the same things all the time. One good description of the difference between management and leadership is that managers make the organization function as designed. Leaders remind us of who we are. "Who we are" is culture.
What is the role of employees in organizational culture?
Employees can strengthen and even improve on organizational culture to the extent that they live it and self-regulate. Employees can be the best defenders of the culture through self-regulating, in that non-believers/non-compliers simply won't want to work there. The power of the people in weeding out or winning over the bad actors in a culture can be considerable. The responsibility of any employee is to understand the culture and make it real. If they don't want to do that, then they're in the wrong place and need to leave.
What are the common problems associated with managing organizational culture?
The most common problem or challenge is simply "bigness."  The bigger the organization, the more challenging it becomes to communicate anything and everything, including culture. The most serious problems occur when leadership allows people who openly violate the culture to stay there. If you have a nice poster with your cultural values posted on the wall, and employees are thinking "If this is all true, then why is he still working here?" – then your culture is a lie, and is worse than having no stated culture at all.  If, for example, one of your cultural values is "We treat everyone with respect," and one of the employees continually violates that value, then leadership either brings that person around or they must leave. If the situation remains unchanged, employees know that you stand for nothing.
What are the ways to innovate company culture? Any best practices to share.
Cultures sometimes must change when the company strategy changes, or even if the business model changes. In this age of disruption, companies sometimes have the need to change a culture of "we only produce the highest quality products" to one of "we make decisions quickly, and embrace the necessary failure of new ideas in order to learn what comes next."  What works well is to have a culture of core values that will never change, i.e. honesty, respect, integrity, and then have an outer ring of values that may change as market realities demand, i.e. from "right decisions" to "quick decisions." Through any and all cultural changes or innovations, effectiveness always comes back to leadership's willingness and ability to communicate.
---