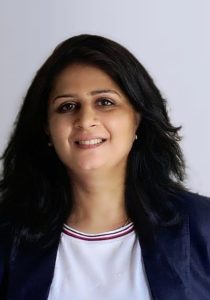 Mona is a seasoned HR professional with over 2 decades of industry experience in Media, Luxury lifestyle & Gourmet retail as HR Head. She spent a large part of her career with Titan, TATA Brand and its various verticals- Titan Watches, Tanishq, Titan Eyeplus and SKINN. from Creating HR practices in Titan to nurturing Talent so that they help transform & grow the organization. She has been a part of the core team that worked towards the setting up of People strategy & HR processes in the new verticals of Titan, Tanishq, Titan Eye+ in the region & subsequently went on to Head the HR function in Region.
With Godrej Natures Basket as an HR Head, her responsibility was creating value for business through building and coaching teams, Org designing, OD interventions, Capability building & implementing processes for organizations going through transformational change.
Her focus has been on nurturing cultures, systems, and providing coaching, that enables Senior executives for achieving growth and performance objectives. She is also a Leadership & a career transition coach. She advises various organisations in HR aspects of their transformation journey and mentor start-ups and Multinational organizations for future-proofing gig economy work needs. She has been a speaker and has won multiple awards including the Women Leadership award 2018 by Fermina.
She is currently working as a Leadership Coach & HR Consultant.
In this Interview, Mona shares her views on the impact of feedback in an organization:
---
What is your view on documenting/recording the feedback process as a part of an organization?
I think as an organisation documenting or recording feedback is very important. The culture of recording feedback not just enhances performance development, but also serves the purpose of guiding employees to improve continuously through reality checks.
For Managers too it is imperative to keep recording observations about employees' job performance as objectively as possible and relate it with established or standard data. Provide evidence of progress (or lack thereof) by connecting accom¬plishments with established goals. E.g. Employee costs were reduced by 4% against a goal of 7%. This representation makes it easy for an employee to understand the assessment criteria, check against milestones set, and recognize the evaluation as fair.
What are the key identification points for good or effective feedback and bad or ineffective feedback?
In positive – constructive feedback, managers consider a partnership model where both appraisee & the appraiser participates, and this increases two-way conversation with the employees. This leads to a more authentic feedback experience that fosters trust, flows with the rhythm of work, and sets the conditions for a positive and lasting change. It's a humbler approach to managing people that focuses on asking questions and not giving orders. The difference I demarcate as between "window gazing" and "mirror holding".
"Window gazing" is a process of see-and-tell. Wherein, it's mostly a monologue and the Manager's view prevails.
At the same time, "mirror holding," offers a dramatic shift in the tone and trajectory of feedback conversations. Instead of telling the employees what to see, managers coach them on where to look. They engage employees in thoughtful conversation about their current strengths, future goals, and how to bring those elements closer in line. This helps aligning & entrusting employees with opportunities to shape the way forward.
I feel that partnership in a feedback mechanism is to help employees to do better. However, managers should ask themselves- How can we help each person thrive & execute?
Few "Hero Questions" like those below make feedback more effective.
Tell me about a time this month you felt energized?
What have you learned about yourself from working on this project?
What strengths have you found most useful on this project?
Who have you recently helped, and what difference did it make in their work and yours?
Here are three things that worked for me. What was going through your mind when you did them? Here's what I would do.
Rather than questions, make statements that boosts participation.
Here's what you should do
Here's where you need to improve
That didn't work
You need to be more responsive
What are some ways to ensure that post feedback, negative feelings like vulnerability or frustration do not set in among the givers and receivers of feedback, in an organization?
Organisations have to view appraisals as feed-forward & not feedback processes. A performance appraisal is not a forum to point out mistakes. Instead, it is a partnership to focus on career planning, learning platforms the individual & the manager must work with an employee, and chart plans which pay attention to what is to be achieved and how it is to be achieved.
What are some ways that you think we can ensure that past bias does not impact the quality of feedback?
When evaluating employee performance, having systems, processes, or procedures in place can help managers and executives make better decisions and avoid bias. It is also important that in today's workforce with remote working and gig employees all systems, processes should be accessible to any employee from anywhere. Transparency must be the key for any organisation with a culture of a growth mindset.
It is important to ensure that the organisations have learning platforms (LMS) learning management systems in place that allow capturing both performance & potential data (Performance data & potential capabilities and access to development opportunities). This will help in ensuring the data is current and accessible for the best usage.
Coaching has an important role here. Creating managers as coaches to be more empathetic, good listeners, and at the same time help employees to inspire & evolve.
A continuous awareness session for all new & seasoned managers which is focused on creating awareness about the hidden influence of stereotypes. This can help to prevent micro-incidents from manifesting into larger problems.
How should negative/critical feedback be approached in an organization? Any best practices that you would like to share.
I believe that feedback is a key driver of performance and leadership effectiveness. Negative feedback in particular can be valuable because it allows us to monitor our performance and alerts us to important changes we need to make. Also, it is important that one differentiates between feedback & verbatim.
I feel that leaders should have a certain level of maturity and emotional intelligence to accept negative feedback and use it to create a change. I have seen examples of both in my career, and a lot of work still needs to go into fostering this change.
We could look at the following actions that could help in approaching feedback calmly and harness them with an open mind:
Don't rush to react: It's important to absorb the feedback, introspect & then act.
Get more data: It can be disorienting to learn that people always don't see us the way we see ourselves. At times, we have no idea what we have been doing to create certain perceptions. We can't act on feedback until we truly understand it. It's important to ask a few trustworthy sources whether they've noticed the same behaviour. Not only does this give us more details about what we are doing to create a certain impression, but it also helps us avoid overcorrecting based on one person's opinion.
Creating Buddies / Allies in the organisation: Managers can help in creating buddies & allies who could help in harnessing the strength of the employee.
Coaching at all levels
Instilling a culture of continuous feedback mechanisms and adopting continuous checking.
In the various organisations that I have worked with, we had the mechanism of collecting frequent check-ins where the yearly KPIs were divided into 90-day KPIs and further into weekly KPIs. A conscious weekly review made the recordings/feedback, and the corrective actions a way of life.
This helped in building transparency & an open culture.
We also implemented a Net promoter scorecard for our internal customers which helped in quarterly check-in for short-term & long-term goals.
Being connected to the ground, pulse check, and townhouse always helped.
At times feedback & suggestions of employees even helped businesses in innovating & creating a new product line.
What are the key questions that an organization must ask its employees to get honest feedback about itself?
The sensitization of managers on the importance and advantages of soliciting feedback from their direct reporting subordinates with whom they spend most of their working hours, and how this can strengthen the company's culture should be advocated.
Somewhere, the initiation has to come from the managers themselves. They will need to proactively ask for feedback from direct/ indirect subordinates and welcome their inputs. This will increase the comfort level of team members, and they will gradually get accustomed to giving feedback upwards.
A shift to continuous feedback: Apart from the shift to receptive and fluid processes, HR must make the right technological choices regarding performance management software.
Culture shift: Continuous feedback calls for acceptance of values such as openness, transparency, acceptance, honesty, mutual respect, collaboration, and an outlook towards coaching and development. Leaders must embody these values, living them and communicating them day in and day out. These values should also be aligned with the organisational values & vision.
The role of HR / Business Managers must be to coach employees and supervisors in best practices on conducting difficult conversations and accepting and acting on constructive feedback. A great way to do this is to have focus group discussions to help people understand the cultural shift.
Process Shift: HR professionals must design a performance management process to regularly document potential & performance appraisal & share feedback & development needs.
Establish open communication channels like face-to-face connections, or a virtual tool like a feedback-giving mobile app. Teach supervisors how to coach and develop their teams, and design and deploy a coaching and mentoring framework if needed.
Interventions: Organizations can also initiate the process of scheduling formal "Reverse Feedback" sessions where employees are given a forum to give feedback to their supervisors as per some suggested structured frameworks like below:
A. Positive Reinforcement
I really feel motivated when you………………..
Two things I like about you as my manager are……….
I get inspired by your…………………..
B. Negative Reinforcement
I get discouraged when you……………….
It was not a pleasant experience when you…………….
C. Suggestive Reinforcement
If you could…………..
I would be happy if you can……………………………………….
If reverse feedback is institutionalised in organisations, comments should not be used for any evaluation purpose and should be used purely for the manager's self-consumption and realisation. This will ensure transparency and self-development.