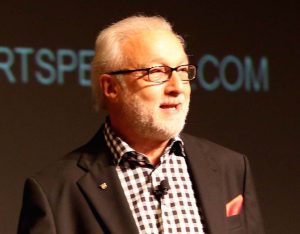 Robert Spector is an international speaker, and author of the business classic The Nordstrom Way: The Inside Story of America's Number One Customer Service Company.
BusinessWeek magazine said, "For anyone looking to understand customer service at its best, this book bubbles with insights."
His newest book is The Nordstrom Way to Customer Experience Excellence: Creating a Values-Driven Service Culture, which Forbes magazine named the Top Business Book of 2017.
Robert is the co-founder of RSi, a company that helps organizations create a values-based culture, customer-focused culture.
His other books include:
Amazon.com: Get Big Fast—the definitive story of the e-commerce giant, which has been translated into 18 languages.
Anytime Anywhere: The first book written about omnichannel retail.
The Mom & Pop Store, a memoir of practical lessons he learned working in his family's butcher shop.
Robert has contributed articles to many publications, including The New York Times and The Wall Street Journal.
Robert teaches retail strategy at Western Washington University in Bellingham, Washington, drawing from the work he's done on Seattle-based icons including Nordstrom, Amazon.com, Starbucks, and Costco.
---
What does organizational culture mean to you?
Organizational culture must be built upon a set of core values. Competitive strategies must change as market conditions change. But core cultural values must never change. If they change, then the organization has transformed into something else.
What are the major determinants of organizational culture?
What are the core cultural values that determine what an organization stands for? We spell out in great detail those values in our new book, which is called "The Nordstrom Way to Customer Experience Excellence: Creating a Values-Driven Service Culture."  These are the values that we discuss:
Trust
Loyalty
Respect
Awareness
Humility
Communication + Collaboration
Competition & Compensation
Innovation + Adaptation
Give Back & Have Fun
What is the role of employees in organizational culture?
When your organization has formalized what it stands for and what its values are, then it's up to the employees to be the champions of those values. Ideally, when you are hiring, you want to attract people who already share your core values. If they don't share those core values, it is almost impossible to convince them. Employees and management should be role models for the organizational culture.
What are the common problems associated with managing organizational culture?
Often, employees who rise to the level of management think they have to boss their colleagues. In reality, managers should be "servant leaders" who are in a position to help the members of their team perform at their highest level.
What are the ways to innovate company culture? Any best practices to share.
I go back to the first question: What does your company stand for? What are its core values? Companies like Nordstrom are always telling their employees stories of outstanding customer service that have been performed by their colleagues. By constantly reinforcing the values of the culture, companies can attract and retain individuals who value and thrive in that culture.
---