Development assessment should be independent of performance evaluation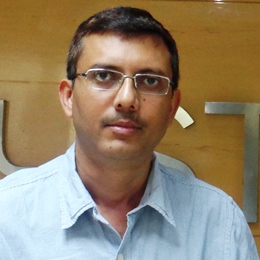 As Head of HR, Rohit is responsible for People Strategy & Operations at Hughes Systique. Prior to HSC, Rohit has worked with Royal Bank of Scotland, Group Usha & Sterling Resorts and has approx. 18 years of HR leadership experience.
For more information on Hughes Systique, visit
www.hsc.com
In an exclusive interview with GroSum Performance Management eMag, Mr. Rohit Sahu, Head, HR, Hughes Systique, stated that Development assessment should be independent of Performance evaluation !!!
How important is Performance Management in today's organizations?
Earlier, Performance Management was all about to end of year appraisals that decided promotion & salary. But nowadays, in a dynamic business landscape where there is increased competition, performance management is about getting employees engaged & imbibing in them a sense of ownership & pride. PMS should thus inspire them to stretch & outperform their work objectives.
It has been typically observed that the significant "Push Factors" for attrition are mostly due to mismanagement of employee performance. These include unsatisfactory recognition of employee contribution, lack of role clarity & misalignment with company objectives. In times when sourcing & retaining talent has become a top leadership challenge, organizations cannot simply afford to let employees leave by mismanaging their performance.
As such, performance management is really quite critical & some key questions that we have to keep on addressing are –
– How do we continuously motivate our employees?
– How do we imbibe a sense of belonging amongst the workforce?
– How can we leverage our performers & support those not doing well?
– How can we make employees see the difference they are making to the company?
How does Performance Management actually help?
In services organization like ours, employees do not really get to easily see the end result of their work, as in product companies. As part of our services to our clients, we deliver software solutions to OEM's (who are not the end users) & therefore it becomes difficult for an engineer to understand a piece of software code is contributing to a business outcome. It's therefore important to set clear goals & make employees understand how for example, a 10 lines of code that an engineer writes is impacting HSC's and its customer's overall objectives.
Additionally, PMS helps set employee expectations – what is expected to be delivered; what is good, bad or ugly; how their output is affecting the company, etc. I believe that this is what provides a purpose to the employee, inspires them to come to work every day and perform better than before, take stretch targets, expand horizontally.
What are the key gaps in current industry practices in managing employees' performance?
Across the industry, there is a big mindset problem that we have to overcome amongst employees & supervisors. Most feel that Performance Management is an annual ritual forced by the HR function & quite independent of the work they do. Really, Performance Management is not about HR or some online tool or deadlines to fill up forms. Everyone should realize that it's a company & individual development enabler; that it is not the responsibility of HR but each individual to take control of & use it to one's benefit.
Another issue is regarding the typical design of a performance management system. In how it's done today, every employee knows that the performance rating is going to impact the salary & bonus payouts. These make the employees defensive & not open to discuss development needs.. I believe that development evaluation should be held independent of performance evaluation as that will encourage open discussion & clear identification of individual's development.
Thirdly, I have noticed that training needs identified do not put sufficient onus on the employee. Rather, a better approach is to identify the required learning needs of an employee to achieve the work objectives set for him. The reason is that when we talk about Learning, company organized training is just one of the many methods. An employee can learn by self-study, shadowing, subscribing to eLearning programs etc. It is the employee's responsibility after all to acquire all the skills required to do the job & this is something that identifying learning needs help address.
Finally, continuous education of both employees & supervisors on the purpose, benefits & best practices on Performance Management should be done proactively in an involved manner. It's not really about a policy or process on Performance Management that is hosted on an intranet Portal but active communication to show how it helps individuals & the organization.
How are you currently managing your employees' performance?
We currently have a 6 monthly review cycle, starting from January & encompass all employees, including Top Management. At the start of the year, objectives of each function are set aligned to company's goals. Employees then set their individual goals & measurement criteria, aligned to their departmental objectives. They also identify the learning needs right at the time of objective setting. In the month of June, we have our half yearly review. It's summary in nature & does not require performance ratings. This review is to take stock, identify what went right and what went wrong. Reviews are done both by employees as well as their managers. Learning status is also updated & managers document the effectiveness of the learning.
In December, the yearly review is done that includes objective wise rating by employees & managers. After Self-Assessment, employees sit down with Managers to discuss & arrive at the final rating. Rating scales are well defined & related to meeting/exceeding/under-achieving expectations. If employees are dissatisfied with their final review rating, they have an escalation route starting from next level supervisor to the MD of the company , with a definite time of 5 days to respond by each escalation level.
We are also putting a competency evaluation framework that will run independent of the performance reviews. The objective is to identify needs related to development of the employee & encourage open discussions between employee & supervisors without the pressure of compensatory rewards. We also use 360 degree feedback as a development tool, rather than an evaluation tool.
What makes a really effective P.M. programme? Any best practices to share.
The most effective Performance Management programme is the one that is spontaneous, where communication is continuous – employees seek, while supervisors give feedback real time. This eliminates the need for stringent processes with deadlines & makes the programme more acceptable & self-evolving.
Secondly, it is critical to involve stakeholders from the entire business & garnering strong support from Senior Management while designing a performance management system. If initial buy-in happens, then implementation & employee acceptability becomes much easier.
Finally, goal setting is the most critical aspect of a Performance Management exercise. It is usually effective to have standard template of objectives & measurement criteria for each employee role. Employees can then set goals using these templates, thus ensuring maintenance of minimum standard of objectives & uniformity within a role.