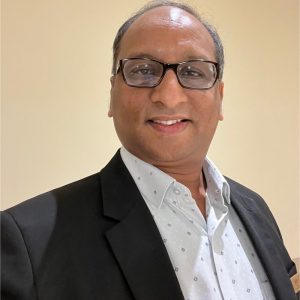 Mr. Padmanabhan is an esteemed figure in the field of Human Resources, boasting a comprehensive background spanning diverse industries including Pharma, EPC, Engineering, Service, and Hardware majors. Through his professional journey, he has developed expertise in critical areas such as Strategic Business Support, Performance Management, Talent Development, Crisis Management, HR Process Excellence, and Industrial Relations. With a career spanning from Indian Conglomerates to Global Multinational Corporations, Mr. Padmanabhan's unwavering passion for thriving in challenging environments is evident, alongside his ability to lead diverse teams effectively.
His hands-on expertise encompasses orchestrating strategic initiatives across HR's functional domains, fortifying succession plans for pivotal roles, crafting efficient organisational structures, fostering adaptive cultures, pioneering innovative HR practices, and spearheading operational excellence initiatives in collaboration with diverse consultants.
Mr. Padmanabhan's remarkable accomplishments underscore his significant influence on HR strategy and leadership, solidifying his standing as a pioneering figure in the field. His role in shaping strategic vision and effective leadership is evident within this domain.
In this Interview, Mr. Padmanabhan shares his take on current and future Performance Management practices in the Pharma Industry:
---
How is the performance of employees managed in the pharmaceutical industry?
Before understanding the employee performance management in Pharma Industry, it is inevitable for one to know about the nature of the industry. Right from product development to manufacturing to sales in different geographies under a strict compliance to regulated norms, Pharma Industry is vibrant sector. As all the leading Pharma Companies are into the extensive and exhaustive process of developing, manufacturing and selling, the workforce is also quite diversified. Linking this diversified workforce and business process into one Performance Management System is quite challenging tasks. Many Pharma Companies are using the traditional way of 'Management by Objectives'(MBOs) for their performance management process wherein at the beginning of the year KRAs are set and reviews in half yearly and annually. Based on the ratings, employees receive their reward. For Sales employees, the monthly/quarterly targets are set and against the targets, their performance is measured. Few Pharma Companies have adopted the Objective and Key Results (OKR) method for their performance Management system, wherein every target is quantified for all the employees along with continuous feedback process.
What tools do you use in managing the employee's performance? Are there any challenges that you face with the tool, and what improvements would you like to see in them?
As an organization, we are in the growth phase. The different people processes including the performance management are quite traditional in our organization. The current performance management for the Assistant Manager and above is more of setting up the individual KRAs for the employees which are reviewed twice-half yearly and annually. For the junior manager and below level, we have defined set of attributes which are measured against their performance. This is the conventional method of performance appraisal. There is limited scope of linking the organization goals to individual goals. Our organization is embarking on Digital transformation journey wherein we are in process of implementing one of the leading HRIT platforms. With this, we also build a robust and contemporary performance management system in the organization. But this will be quite a daunting task for us- defining the business goals, cascading to the functions and individuals and educating them about the new process and system. Definitely, we need to obtain the buy-in from each stakeholder and make them partners in this change management.
What aspects of performance management do you think will improve employee participation in the performance management experience?
In my view, there are 2 important aspects to improve employee participation in PMS experience. Firstly, cascading the organization level goals to the last person in the chain of command. If the employees are clear about what is expected out of them and consequent of meeting the expectations, they will really work towards achieving their goals. Secondly, continuous feedback is the key to a successful all-round performance management. The feedback process should be of 2 ways- manager should be able to give feedback and employee should be able to seek feedback and help required. In addition to these, an HRIT tool with great employee experience features will be a cherry on the top.
What are the key gaps in the current pharmaceutical industry practices for managing employees' performance?
There is always want vs. got gaps in any people process. Like all industries, the performance management process in Pharma Industry is many times driven by subjectivity rather than being objective. It means that while assessing the performance, we always tend to get carried by recency effect or halo effect. This can lead to an inefficient process. This is a struggle everywhere. Another important element is the consequent management. During the time of assessment, the managers are supposed to identify the right development areas for their team members. While identifying these areas, managers can be quite vague and subjective. For a moment, if we consider that a manager identifies the right Development Areas, but for implementing the interventions, the organization may not be equipped enough. Sometime the employee's development areas may not be priority of the organization.
Could you discuss the potential use or relevance of OKRs in the performance management system of the pharmaceutical sector?
OKR is a powerful process and it has got high a potential in Pharma Industry. All organizations always want a process through which they can identify early signs. As the entire principle of OKR is based on leading indicators, be it individual's performance or organization level performance, it can indicate the possible trends and outcome. With this organization's can revisit their focus areas and implement corrective actions which will eventually help them with the desired outcome. OKR is the tool which can help the organizations to fight the small battles which lead them winning the war.
What do you think the future of Performance Management will look like for the pharmaceutical industry?
Pharma is an exciting industry. I have been in this industry for more than 2 decades and the principles of performance management remain the same. But the approach has changed. From Conventional Process to OKR method and from paper based to online tools, I have seen these transitions. In my view, the way pharma technology develops rapidly, we need to keep changing the approaches to measure employee's. One of the key interventions which is taking place in Pharma Performance Management today is linking the ERP to PMS. This way subjectivity is being reduced and the outcome of business directly is being linked to one's performance. There are many HRIT tools which offer the best of the PMS Processes. Performance assessment is not only driven by online tool. It is driven by manager's judgements too. In Pharma, both system and the manager's feedback will prevail in the Performance Management Process. More importantly, need for continuous feedback and consequent management for employee development will continue to dominate in the performance management process in pharma.