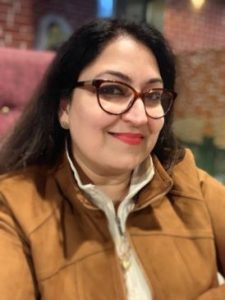 An Award Winning Verified HR Influencer and HR Business Consultant & Coach, Saloni comes with over 30 years of HR Strategic Consulting and Advisory, Executive Coaching & Mentoring, People Learning & Development experience
Saloni has held leadership responsibilities at the finest names in the industry, Dell EMC, Tata Consultancy Services, Tata Infotech etc. to name a few.
Widely travelled, she has worked with people from different cultures and countries as US, UK, Netherlands, France, Singapore, Japan, Hong Kong, Taiwan, Korea, Australia and most recently Afghanistan!
In 2012, she founded India Talent Services. In 2013, she was honored by the ISB Goldman Sachs – 10K Women Entrepreneurship Program – for the "Best Business Plan Award".
A veteran, her credibility with business houses shines through her vast Business Management Insights and Global Leadership Experience. During the last decade, she has contributed to Business HR Strategic Direction, Organization Development, Talent Management, Learning & Development Initiatives for client organizations and professionals in India and overseas.
In 2019, she launched "Udaan –It's Time to Fly"- where she runs entrepreneurship courses and coaching programs for new and aspiring entrepreneurs.
An active member of the Startup Leadership Program, she is a Mentor with Shaktipreneur, Global KP Business Foundation and All India Technical and Management Council and registered ZED Consultant with GOI.
Saloni is also a Core Committee Member ISB Women Entrepreneurs Group NCR Chapter, Womennovator Influencer – HR 2019-20 and General Secretary, Faridabad Management Association that keep her occupied in CSR Activities.
Her purpose in life is to awaken people so they can live their dreams by unleashing their infinite potential and creating a world of endless possibilities.
In this TopTalk interview, Saloni shares her views on Performance Management during the pandemic and WFH Scenario.
Things we asked Saloni in this interview with Saloni(video below) :
Her opinion of the impact the pandemic had on employees' performance.
The proactive measures that leaders can take in this situation, to maintain employee performance and ensure employee engagement.
If formalizing feedback and/or regular check-ins will make any difference.
The ideal frequency of check-ins to be done to ensure that it is effective and not burdensome to both employees and managers.
Steps must be taken to ensure clarity on work objectives/goals and their priorities in this scenario.
The key questions the organization must ask its employees to get a clear picture of itself.
Click on the video below to watch the entire discussion with Saloni: