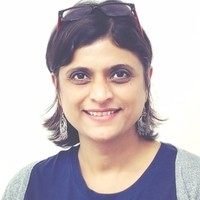 Over 19+ years of experience spreading across industries like Advertising, Media, KPO, Saswati has been in the business of talent as a passion rather than an occupation. She was awarded the Top 100 HR Minds in India by the World HRD Congress in 2018.
She started her career with Cyber Media, an IT media company. In her professional journey, she has been with JWT, Evalueserve, Publicis Media to lead their talent vision. She has been part of top management and has led organization talent audits at the leadership level, driven cost efficiencies and restructured organization teams for productivity and agility. She has also worked on global mandates and delivered best practices across countries like Chile, China, UK, and the USA to conceptualize and
implement talent practices.
In all her leadership mandates in the sphere of talent acquisition, development and interventions she
matches business goals and bottom lines with talent management ensuring ROI.
At present, she is heading the Talent Mandate for Cheil India which is a Samsung Group Company.
---
What is currently missing in the way overall employee performance is being managed?
Employee demographics are changing with more millennials inducted into the organization. Agility, innovation, and flexibility are defining today's business success. However, in this fast pace of business, organizations are missing on real-time performance reviews. Most organizations still follow the 6-monthly and annual reviews that neither helps the growth of an employee nor the company. Talent managers must un-learn the traditionalist approach of appraisals and adopt new ways to enhance employee performance.
Given that a company's workforce now has a significant proportion of virtual and freelance workers, how should performance management include them?
With the advancement of technology and AI- it is relatively very easy to incorporate everyone in any process. Specific to performance management, there are chatbots and software which can track employees progress and give valuable insights on the same. Continuous and relevant feedback can help people perform better and facilitate a culture of coaching between peers. Performance management has to be incorporated in real time with 360 Degree Feedback to the traditional review process. One hat no longer fits all.
What are employees, managers and decision makers looking to make performance management more effective?
Employees are constantly looking for an engaging session with their supervisors where they can be given real-time feedback. This, in turn, helps in their overall growth. Managers and Decision makers are looking for higher productivity, an increased efficiency that shows the measurable impact on the business. The annual review process no longer holds as the only yardstick of performance evaluation. It is imperative that the annual review is augmented with real-time feedback.
What are some of the new things being introduced in Performance Management that are working/not working?
Some of the new things being introduced are: companies like delinking salary increases from performance review, the focus is more on quality of review than on quantity and timeline, some organizations are moving away from annual review overall driving performance through continuous conversations.
Having said that in many cases these organizations are also facing issues of how to measure effectiveness, how to distinguish feedback from criticism, avoid personal biases, ensure transparency of process etc
If not periodic appraisals, then what & how?
There is no right way of effective performance management. One must customize the process basis the business needs. While in some organizations traditional way of annual review process still works effectively, the others have to make necessary amendments in lieu of business requirements. Constructive feedback, performance orientation are some key elements that will always hold importance. The change will be seen in the way we do it!
---