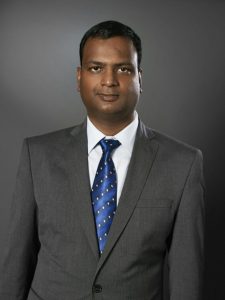 Srinivas Chunduru is founder and CEO of VANS  a young bouquet organization that partners with corporates along 3 major verticals – SKILLING people and advising them to accelerate their growth curve; SCALING organizations with an objective of helping them reduce time to market and maximizing profitability and INVESTING in profitable ideas and helping them achieve their success targets. VANS is one of its kind platform that partners with SMEs and Startups along their entire value chain including helping them transform their internal processes around People, Finance, Technology etc. The Expert team that comprises Ex CEOs, C-Suite Executives from reputed corporates and Knowledge Labs in Mumbai, Hyderabad, and Bengaluru that serve as back office advisory.
Srinivas is a  business leader with over two decades of experience across diverse functions such as P&L Management,  Corporate Strategy, corporate finance, Fundraising, M&A, Investor Relations and Strategic Human Resources.
Mr. Srinivas Chunduru, till recently was Executive Director for the housing finance division of a leading conglomerate I.e., Piramal group. Prior to this role, Srini played key roles in various capacities like President -Strategy, Chief Human Resources Officer and as V.P- M&A and Investor relations at the Piramal group (conglomerate with interests in Pharma, Financial services, Real estate and packaging). He has also worked with L&T in  corporate planning and was EA to Member of the Board
Srini has an impeccable track record of setting up and scaling up functions and businesses across various Sectors especially, areas involving large teams and large-scale transformational initiatives. A firm believer in the application of "first principles" for problem-solving business issues
His areas of interest include Valuations, strategic HR, Executive compensation, linkage of business drivers to Long-Term Incentives,  M&A integration, Alignment and cascade of Vision, Values, fund raising and long-term business plans using tools such as EVA alignment, Balanced Scorecard, Large-scale transformations, and  culture cascade
Some of the awards  he was conferred with Include:
Top 50 CHRO's in Asia – ET in collaboration with world HR Congress
CLO of the year – TISS and Leap Vault
Best Simulation for L&OD – Leap Vault
Best HR processes and systems – Green Peacock award
He has been a  regular speaker and has shared his views in prestigious forums such as CNBC Leaders Conference, Aon Hewitt reward conclave, CLO Forum, National HRD Network, Rotary Club, World Summit on Innovation and Entrepreneurship (conducted by WEF, New York) and World HRD Congress.
---
How important is Performance Management (P.M.) in today's high-flux organization?
To start with, it is important to distinguish between Performance Management and appraisal process. Often, organizations and employees use and perceive them interchangeably. Performance Management in my view is a continuous process and should become the DNA of the organization. Having a right and continuous performance management system helps an organization to convert, monitor, provide feedback and course correct, strategize the long-term objectives and its execution.
Whose responsibility is Performance Management?
This is an excellent question. Performance Management is seen and perceived as the responsibility of HR. However, in my view, it is the responsibility of all business managers and employees. Role of HR in Performance Management is like a role of the 3rd umpire in cricket i.e., aiding the process and helping the business teams to make it a way of life. The batsmen, bowlers, fielders, commentators, and umpires are the business managers and employees.
What are the key gaps in current industry practices in managing employees' performance?
The major gaps are :
Performance Management is seen as an annual exercise or bi-annual exercise and hence, often ends up as a check in the box exercise.
Limited involvement of the business as is seen as an HR exercise.
Limited relevance to the business context and in my view, HR needs to focus more on getting a deeper understanding of the business, work closely with the business heads to make it more relevant and useful to the business.
Output focussed and not input focussed. Most organizations, give disproportionate weightage to the outcome, and not so much on the fundamental building blocks and hence, indirectly the process may encourage the short-term behavior.
Other than better pay or job roles, what are the main reasons why people change jobs?
There is enough research and data to suggest that more than three-fourths of the employees quit due to his/ her chemistry with the immediate manager. Additionally, very important elements are the values and culture of the organization.
What makes a really effective P.M. programme? Any best practices to share.
Some of the best practices that come to my mind are as below: