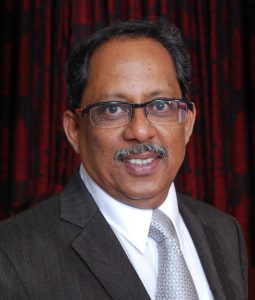 Tarun Midde is an HR professional with extensive experience with strong focus on HR Strategic and Leadership roles across diverse businesses through an entire value chain of people management processes transcending from sensitive Industrial Relations to special emphasis on building & improve progressive HR Processes & Systems in industries like Manufacturing, Services & Hospitality, Banking, Electronics and Real Estate.
He was instrumental in transforming the cultural framework of Raheja Universal, as Head of HR, into a contemporary set up. Prior to Raheja, he served as HR Head Of Nelco a Tata Enterprise where he played a major role in introducing Tata Business Excellence Model (TBEM), a Tata Group endeavor, in implementing a framework of improvement of processes to achieve excellence in business performance. He successfully carried out the major revamping of systems and ramping up the talent pool to manage the operations of Oberoi Hotel's new business unit. At Saudi British Bank (HSBC group) he had very effectively facilitated in saudiazation (localization) process through value assessment and by inducting local talent pool from universities like KFUPM (King Fahd University of Petroleum & Minerals).
Apart from his professional pursuits was engaged and has led the CSR initiatives in various companies, especially with Nelco, a Tata Group Company, resulting into successful community education project under the aegis of Tata Council of Community Initiatives [TCCI].
A Post Graduate in Personnel Management from Xavier School of Management (XLRI), Jamshedpur, India [Premier Management Institute in India].
A recipient of 'Most Influential HR Leader' from the Institute of Public Enterprise (IPE) under the aegis of World HRD Congress, India.
He is on board as an Advisor to Corporate Galaxy – Star Training Network and an Advisor-Mentor to Fairgrowth Management Consultants.
He is a life member of the Forum for Emotional Intelligence & Leadership (FEIL), Bombay Management Association (BMA), Indo-American Society (IAS), Mumbai, India and member of the Indian chapter of 'Leaders excellence' Harvard Square, USA.
---
What is currently missing in the way overall employee performance is being managed?
Whilst the organizational world is changing from the top down appraisal process to lateral involvement of team, many organizations are still considering various ways and means to make the appraisal process more meaningful than just a yearly ritual.
Since its inception, performance appraisal and its measurement techniques have been ever evolving and will continue to baffle to create and arrive at a meaningful system especially with ever-changing challenges of digitization and managing the knowledge economy that is fast evolving to engulf all the fractions of the organizational system. Coupled with the millennial expectations of involvement in the decision-making process would make the process more critical.
Defining the goals for the organization, its impact on individual performance has been always been missing in its true sense.
In my view, matching organization goals with clarity and alignment to the role &  responsibilities of individuals have been a big challenge. At the same time matching competencies and behavior required to achieve the assigned responsibilities is equally important with defined accountability.
Barring some forward-looking organizations, most of the companies including some large and SME sector do not have a well-defined performance management system meeting the concurrent challenges of growth for a business.
Given that a company's workforce now has a significant proportion of virtual and freelance workers, how should performance management include them?
The digitization and virtual organizations being the future, the HR fraternity must be ready to create a virtual world with minimum disruption in the emotional zone to keep connected with the people.
Whatever the Artificial Intelligence generates benefits in the area of analytics at no time can an organization overlook the 'humane' aspect of the organization. A continuous interaction, sharing of information, data, involvement in the decision-making process shall be cardinal to keep this group motivated.
A personal connect once in a month/quarter to evaluate and assess 'in person' the value generated by the individual would make the appraisal a meaningful exercise.
Virtual feedback on performance will degenerate the process into a routine as the process must be seen as a 'development tool' than just measurement of performance. In person than virtual would retain the emotional touch and make the system more vibrant and meaningful.
What are employees, managers, and decision-makers looking for to make performance management more effective?
As I said earlier, the appraisal process needs to make a dramatic shift from top down approach to a 'participative' process, where the individual would have substantial say in his role and responsibilities to meet the organizational goal and how he plans to achieve it.
Today's generation wants to drive business and wants to move out-of-box than being driven by a defined area of operations. They want to get involved, participate and partner in the development and growth of the organization.
Hence their involvement in whole functional process end-to-end is key to the success of the appraisal process.
What are some of the new things being introduced in Performance Management that are working/not working?
There has been a major shift from 'Bell Curve' 'Forced ranking' to periodic 'Ongoing feedback' system, which has generated some substantial positive results for many organizations. However, there is still enough room for major change.
Periodic sessions of feedback and interactions are making things more lucid and meaningful both the organizations and the individuals, creating room for midstream corrections and developments.
This has generated a good result with timely interventions.
If not periodic appraisals, then what & how?
The periodic appraisal is the order of the day and has been quite successful with many Companies. Nonetheless, it may induce cognitive stress, which may lead to deterioration of achievement motivation.
However, despite the success of periodic reviews, in my view, the 'multitasking' as one of the expected development process to grow individuals in the hierarchy is not the way forward. Multitasking, instead of giving better result is becoming an impediment to the expected achievement of the result and competency growth.
Instead, an 'Assembly line' approach with the completion of an achievement of a defined task with 'staged exposure' with progressive exposure to different/ higher responsibilities would make it more achievement orientation and growth of competence to undertake bigger responsibilities. In turn enhanced level of
confidence to achieve greater heights.
---