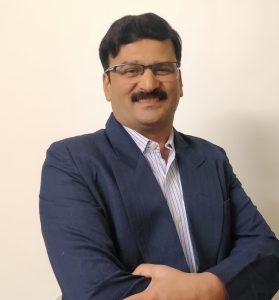 Yashwant Bhaid is an accomplished HR professional with a distinguished career marked by extensive experience in leading strategic HR initiatives with a strong business focus. His expertise encompasses a wide array of industries, geographies, and functional areas, including Corporate HR, HR Business Partnering, HR Center of Excellence, and Plant HR Administration & Compliance. His domain knowledge is robust, covering HR Strategy, Talent Management, Business Partnership, Organizational Design, Leadership Development, team performance enhancement, Employee Engagement, Industrial & Employee Relations, Greenfield Projects HR setup, and Sales & Marketing HR.
Mr. Bhaid has implemented strategies to maintain organizational quality, productivity & sustainability initiatives roll out & related HR delivery across various industries like Automotive OEM, Consulting Engineering Services, Global Automotive Design and Delivery Center(A/EU/APAC), Pharmaceuticals, Power and Fertilizers and Chemicals Industry.
Some of the companies where he has worked with in his professional journey are- Hero MotoCorp, TATA, Mahindra & Mahindra and  Nagarjuna Groups. Throughout his journey, he has been a Talent and Proficient Learning Enabler.
In this Interview, Mr. Bhaid shares his take on current and future Performance Management practices:
---
What methods or tools do you find most effective in tracking and measuring employee performance over time?
In monitoring and assessing employee performance over time, I find that establishing straightforward and well-defined objectives, which encompass Key Result Areas and their associated Performance Measures, is highly effective. True effectiveness is contingent on engaging in open and objective discussions about these goals, sometimes involving productive negotiations to reach consensus on the goals and how they will be reviewed and at what intervals. While the responsibility for evaluating performance lies with the appraiser, it's important to recognize that the appraiser, the HR department, and the organization as a whole share a collective responsibility in fostering the appraisee's performance to serve the broader interests of the company. Additionally, using a basic Excel spreadsheet can be a sufficient tool for this purpose.
What aspects of performance management do you think will improve employee participation in the performance management experience?
To enhance employee engagement in the performance management process, it's crucial to ensure their active involvement throughout the entire process. This involves maintaining high-quality communication and fostering an environment where all parties are open and receptive to listening. Additionally, implementing informed adjustments along the way, when necessary, can contribute to making the process more effective.
What are the key gaps in the current industry practices for managing employees' performance? Any challenges that you faced which you would like to share?
The existing gaps in managing employees' performance within the industry are often rooted in an excessive focus on strict processes, which can impede the overall effectiveness of the system. A significant challenge lies in HR's task of instilling a sense of ownership in leaders and managers, encouraging them to view the process as their personal talent management tool. Achieving this goal is more challenging in practice than it may seem in theory. Additionally, HR's own belief in the process, coupled with their confidence and willingness to enhance it for user-friendliness and positive outcomes, plays a crucial role.
What recommendations do you have for maintaining a culture of continuous employee engagement, improvement, and motivation within an organization?
I recommend making Performance Management System (PMS) implementation an obligatory aspect of all managers' roles and goals. Providing comprehensive training to managers in their people management responsibilities is essential for long-term success. Recognizing and appreciating leaders and managers who wholeheartedly embrace and effectively implement these practices can serve as a motivating factor for others in the organization.
What is your opinion regarding the future of performance management and OKRs?
Performance management and OKRs will continue to hold significance as critical business processes, and they should be approached with the same level of seriousness as organizations devote to strategy execution.