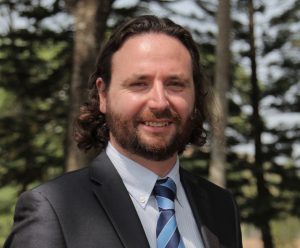 Ben Whitter is described as the World's "Mr Employee Experience"™ and the '1# figure in employee experience around the World right now'. Ben is the Founder of the World Employee Experience Institute (WEEI) & Chairman of the UK Employee Experience Awards.
Ben operates globally at the forefront of the employee experience movement. In 2017 and again in 2018, Ben was officially named one of the World's leading experts and influencers within employee engagement and one of the top 30 HR Influencers in the UK. His work featured in the Global Human Capital Trends Report 2017 by Deloitte University Press. Ben also co-designed and delivered the first Employee Experience conferences in Europe, Asia, Israel, and Australia. Ben's work has been widely endorsed by the World's leading companies and practitioners.
Ben is the author of the acclaimed thought leadership piece, Bye, Bye Human Resources? and was lead author of the first article on employee experience (The Global Organisation in a Chinese World: Why organisations and HR need to re-focus on the Chinese Employee Experience) to appear in China Business Review. Ben's thought leadership has reached over 14 million people and he has been featured across HR and media including Forbes, Thomson Reuters, China Business Network, MIT Sloan, HRD Magazine, HR Grapevine, Inside HR, People Matters, HRM Asia, CGTN, and many more.
Ben is a multi-award winning practitioner; his work has been celebrated as the UK national standard and one of Ben's HR projects received an official visit from the British Royal Family in 2013. Ben's work has also been cited several times in UK Parliament as national best practice.
In the first appointment of its kind within UK Higher Education, Ben was the retained Director of Organisational Development at The University of Nottingham Ningbo China for three years; Ben also sat on the British Chamber of Commerce Shanghai HR Committee, is Co-founder of Thrive In Asia- a progressive HR platform, and he is a Global Ambassador for Engage for Success.
As a global thought leader, in-demand keynote speaker, and multi-award winning EX Pioneer, Ben works with great organisations and people committed to the employee experience as a method of delivering meaningful and successful organisations.
In 2017-18, Ben is leading an employee experience world tour, which sees him deliver keynotes, HR Breakathons, and masterclasses in over 12 countries worldwide.
You can connect and collaborate with Ben on LinkedIn, Twitter, and WeChat.
---
What does employee engagement mean to you?
Employee engagement is an outcome of employee experience, which is the intentional design and engineering of a high value, integrated and end-to-end employee experience. From pre-hire to retire, using the experience as a lens, we can maximize all the interactions an individual has with an employer over the long-term to create a deep sense of belonging and co-create high performance and stronger business outcomes.
Therefore, the level of engagement within any organisation is a direct reflection of the quality of experience and how well aligned it is within a business.
How to measure employee engagement?
Business and human results. These are the only true measures of a high performing organisation, but extent to which employees are engaged in the business and brand is an indicator along the way. In this sense, measures can be diverse and varied of data points. Are employees referring customers and talent to your business? Are objectives being met or exceeded consistently? Do employees speak highly of and advocate the brand and employee experience? Various organisations have tapped into NPS for employees as one data point to measure engagement, but it is a very narrow one, and must be viewed in the wider context of performance. Retention of employees (and customers) is also still a top metric that companies keep a mindful watch over, and the other element is, of course, trust in the brand and business. No trust. No business.
What are the common causes of employee disengagement?
Poor senior leadership. Poor direct management. Poor people practices and working environment. The order in which these are problems will vary dependent on the context and individual, but all are major factors in creating a workplace that disengages employees.
What are the drivers of employee engagement in today's fast-moving world?
The only real driver is a holistic focus on the employee experience. Experience is everything. Establishing and or elevating a long-term focus on the 'experience' of work for employees is critical to defining, designing, and delivering human-centred and high performing workplaces.
What makes a really effective employee engagement programme? Any best practices to share.
Embrace employee experience, both strategically and operationally. Co-create the experience of work with employees. Build and design in a human centred-way. Align purpose and values throughout the employee experience and connect it directly to the customer experience, and integrate it into the business strategy. There can be no tolerance for any gaps between people and the business. Structure EX accordingly and place on the agenda at Board level. Make trust and transparency the foundation stones for all future progress.
---