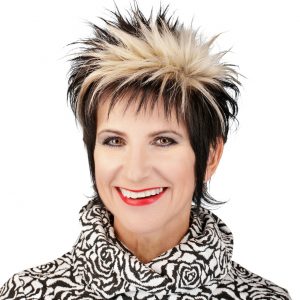 A TEDx Speaker, Author and Organizational Consultant, Deri works with organizations who want to create happy, healthy, humane workplaces for increased positivity, productivity, and prosperity!
Creating cutting-edge educational experiences for organizations, Deri adds extra value with certification in emotional intelligence, psychometric assessment, and neuro-linguistic programming. A popular University Instructor, she has designed and delivered full-credit courses and seminars in Resilience, Positive Psychology, Team Building, and Leadership Development. Deri's client resources, including two books 'Wake Up To Your Habits' and 'What's Your Story? You Decide', and an APP called 'Mood Manager', provide a rich resource of strategies and tools to shift your emotions, adjust your thinking, and positively impact your results.
---
What does organizational culture mean to you?
Organizational culture is an expression of the values and beliefs of the members of the organization, and is manifested in behavior. It permeates every aspect of the organization, defining it internally and externally. It is the 'experience' that people have of the organization.
What are the major determinants of organizational culture?
Culture is determined by 1) leaders, and the congruence and frequency of their messaging about who they are and what they care about; 2) structure, and the ease with which communication flows and relationships are able to develop; 3) people processes that support a healthy, growth mindset, and reward value and contribution rather than strictly rewarding 'performance'.
What is the role of employees in organizational culture?
Employees have a role in 1) paying attention, and asking questions to help them continuously learn about the organization; 2) mindfully sharing information about themselves that helps them to connect with others in a meaningful way; 3) behaving in alignment with the organizations values and beliefs, because they truly are 'one'.
What are the common problems associated with managing organizational culture?
Common problems include 1) selecting leaders based on their technical competence rather than their emotional and social competence; 2) communicating inconsistent messages, that are not carefully considered prior to sending; 3) rating staff on numbers rather than on value and contribution to the organization, and comparing them to each other rather than to themselves
What are the ways to innovate company culture? Any best practices to share.
The best way to innovate company culture includes keeping the dialogue open about what it is, and what it should be – as it evolves over time. Including all staff in creating culture ensures that the topic of culture stays active, and is reinforced as something that belongs to everyone (not just leaders). Culture affects every member of the organization, and should be owned by all members. It truly is co-created through dialogue.
---