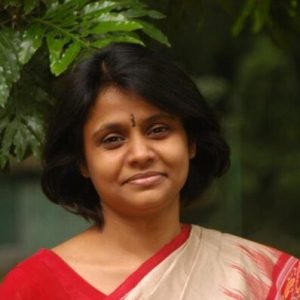 Dr. Tripti Singh is currently the Chief Learning Officer at Centum Learning – A Bharti Group Enterprise. Prior to this she has been the Director of the Consultancy firm called 'Drishtikon Consultants'. She is an HR Strategist, a leadership development and an OD expert and also an Executive Coach, and a Career Consultant.
She has rich blend of Academic and Industry experience of about 22+ years. She has been a full time faculty at academic institutes like IIM Bangalore, IIM Kozhikode and Goa Institute of Management. As part of Corporate experience she led HR, OD and Leadership Development verticals at Group level of large Conglomerates as Tata Services (TMTC Pune) and Aditya Birla Management Corporation – Gyanodaya, Mumbai, where  she was part of the Group HR and led the Group's Leadership Development, OD interventions and leading the culture change initiatives.
She has taught Corporate Executive Programs at Ross School of Business, Michigan and haa taught executive programs with Faculty from Harvard Business School, Rice University and Accenture Leadership Academy for multiple years. She has also been an  Associate HR Consultant for family owned businesses, developing and designing HR. Policies and practices for the organizations and has been part of team managing the entire gamut of HR operations for a service organization.
Her drive to be connected with young talent, drives her to continue serving as a visiting faculty at XLRI Jamshedpur, IIM Amritsar, IIM Ranchi, IMT Hyderabad, TAPMI – TAPAI Management Institute, Manipal. She has a Doctorate qualification in Management from XLRI School of Management, Jamshedpur.
She is a certified trainer for Corporate Governance by the International Forum of Corporate Governance and a certified Executive Coach. She is certified on several psychometrics and leadership assessment/ development tools. She has published about 23 research papers and Case studies in International Journals and National and International Conference Proceedings. She had developed and validated a Scale (Psychometric tool) to measure 'Spiritual Orientation at Work'.
In this interview, Dr. Tripti Singh takes a deep dive into the goal settings processes and shares her experience and knowledge on the best practices of Goal Settings. We discussed the following in detail in this interview (video below):
Importance of a collaborative Goal Settings process.
The necessity of Goals Cascading and tying individual goals with organisational and/or departmental goals.
Whether sub-goals should be a part of the goal settings process.
Approaching zero-target goals.
Measurability of all types of goals.
Click on the video below to watch the entire discussion with Dr. Tripti Singh: