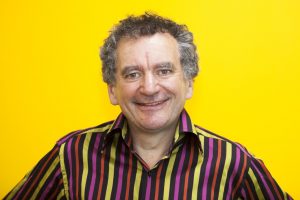 Henry Stewart is the Founder and Chief Happiness Officer of London-based learning business Happy. The company was rated one of the top 20 workplaces in the UK for 5 successive years and now helps other organizations create happy workplaces. Henry himself was included in the Guru Radar section of the Thinkers 50 list of the most influential business thinkers in the world.  "He is one of the thinkers who we believe will shape the future of business", explained list compiler Stuart Crainer. His book, The Happy Manifesto, was published by Kogan Page in 2013 and was shortlisted for the Management Book of the Year.
---
What does employee engagement mean to you?
I don't tend to use the term employee engagement. I want to see people more than engaged. I want cultures where they are happy and fulfilled, and finding real joy in their work. So the term doesn't go far enough for me.
Because it's not about improving your communications or agreeing with a new set of values to put on the wall and forget about. It's about creating an organization which fundamentally trusts its people and give them the freedom, the resources and ability to do a truly great job.
How to measure employee engagement?
As I say, I'd measure happiness, fulfillment and joy. You can get a sense of that when you simply walk into an organization, and from how at ease and supportive people are. But its always a good idea to have regular surveys to assess how people feel. There are the classic G12 Gallup questions. But we ask about happy they feel at work if they find joy there, and if they feel trusted and if they feel a) their manager and b) the organization has their best interests at heart.
What are the common causes of employee disengagement?
What people don't like are managers who micro-manage and tell you what to do, not seeing how what you do makes a contribution and blame cultures.
What people like is being able to do something they are good at, having the trust and freedom to do it well, having a manager who coaches rather than tells, knowing how they make a contribution and a no-blame culture. Simple!
What are the drivers of employee engagement in today's fast-moving world?
If you want your organization to respond quickly and flexibly, you need as few restrictive policies and procedures and as much trust as possible. You need people who know they make a difference and know they are able to act, to help a colleague or support a customer – without having to get approval for it.
What makes a really effective employee engagement programme? Any best practices to share.
The most effective programme is one that changes the fundamental structure of how an organization works and how it operates. This needs to include:
People being trusted to find their own solutions – without the need for approval as long as it's within agreed guidelines.
The role of the manager is not to be the expert and the decision-maker, but to be the coach and enabler
Two tracks of promotion, so those who are not great at managing people, don't have to do that.
A focus on helping people play to their strengths
A culture where people are encouraged to be positive and supportive and are only rewarded and promoted if they are.
Getting rid of all the rules and processes that make it harder to help colleagues or customers.
Take Buurtzorg. This inspirational Dutch care provider has grown from 4 nurses in 2008 to 14,000 today. Yes, from 4 to 14,000. Wow! These nurses work in teams of 10. They are no manager. They decide individually and as a team what to do. They don't need an "employee engagement programme" because the very structure of how the organization works put them in control, able to use their expertise to decide what their patients need.
Take GCHQ (Uk security services). They need to be at the forefront of technology so a £1 million budget was agreed for innovation. A crowdfunding site was created and people could bid for £10,000 of this idea, or £200 for that idea. They got a stack of ideas and normally it would then go to the directors to decide who got the money. Not at GCHQ. They divided up the £1 million into 100 sets of £10,000 and gave it to 100 of the most junior members of staff to allocate to projects on the site. "I had a £10,000 idea for a new piece of technology to improve communication", explained one employee. "In the past, it would have needed three levels of approval and I Might not have bothered. But I put it on the site, got funding within a week and implemented it a week later."
That is true engagement, with senior managers stepping out of the way and enabling the front line to take decisions – speedily and effectively.
Take Happy, my own company. One key element here is that people get to choose their manager, and the role of the manager is seen as to be a coach. So you are trusted to do your work and know that when you meet your manager, it is somebody who cares about you, who supports you (and challenges you) and helps you find your own solutions.
---