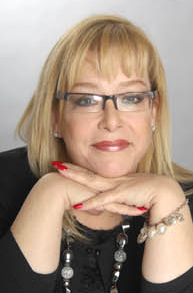 Executive Coach, Consultant, Trainer, Speaker and Writer, Irene is a trailblazer whose R-E-A-C-H™ methodology and 3Q Edge™ focus have helped forward-thinking people and organizations in Canada, USA and Europe USE strengths, changes, challenges and failures to achieve breakthrough results in their careers, communication, leadership and lives; exceptional results that stick and grow at the speed of change. Yes, 3Q is unique in that it helps people build the mindset and skill-set that enables and optimizes potential in the face of change and challenges. First female CEO of a steel company in Canada, Irene Becker has a track record of accomplishments in business and in the community at large. Passionate about the integrity of her work, Irene just returned from her first keynote in the UK and works with clients face to face, by telephone, Skype or video conferencing.
---
What does employee engagement mean to you?
Employee engagement is the driver of organizational results and sustainability. I have worked with clients in Canada, USA and Europe and the importance of engagement does not vary. The happy employee is a better employee, and developing this happiness is often rooted in developing the type of communication that drives engagement. It is an area I am passionate about because it is part of my professional focus and has led to successful results! People are important, and our ability to not simply have employees who are champions of the company's values and vision, but recognize that they are important, that their voice counts, and that the organization is not simply interested in what they can produce, but in how they can grow their professional and personal capability and potential. Employee engagement is a catalyst for success and sustainability that cannot be ignored.
How do you measure employee engagement?
There are a number of ways to measure employee engagement. Here are some that are top of mind:
a) Surveying employees in a way that makes them feel part of the greater purpose and mission of the company and that their input around engagement is valued and appreciated. It is imperative to make sure that the surveys used are short, frequent and are positioned to demonstrating that the company cares about its people and is making a conscious effort the get their feedback, input and to make sure that they are happy at work.
b) Making an anonymous box available where employees can talk about what bothers them and what they appreciate without fear of reprisals.
c) One on one interviews to generate enthusiasm, go over objectives and get feedback. Interviews where the manager has been trained in determining what engagement is, how he/she can recognize it and steps to take if there is an engagement problem.
d) Exit interviews
e) Stay interviews, where an employee who is dedicated to his/her role and the company talks about, makes them happy in their position and makes them also want to stay.
e) Integrating social activities and team building activities that are developed to fit and satisfy the team, to speak to their importance, their talents and their ability to grow and evolve.
f) Regular open forums for teams to discuss engagement, what they are happy with and what concerns them.
What are the common causes of employee disengagement?
The most common cause of employee disengagement, as well as employees quitting, is having a difficult relationship with their boss where they feel they are not heard, appreciated or they have to consistently fall on the sword for their boss.
Other causes of employee disengagement include:
Bad cultural fit. The culture of the organization is not the right fit for the employee.
Lack of purpose, direction or definition of roles and expectations.
Actions that make the employee feel disrespected.
Actions that make the employee feel that his/her ideas and opinions do not count.
Micromanaging bosses who make the employee constantly feel disempowered.
Dis-constructive feedback.
Poor onboarding
Actions of managers and senior leaders that do not support the vision and values of the company.
Unethical actions.
Bullying of employees.
What are the drivers of employee engagement in today's fast-moving world?
Purpose equals profit. One of the greatest drivers is that employees must feel that they are part of a greater purpose, and that their work is meaningful and important to the company. Helping employees develop their talents and purpose by ongoing education, learning opportunities etc. that help them grow in their roles. Helping employees develop cognitive and emotional dexterity, grit and curiosity as well as furthering the importance of collaboration. Building trust by having a clear communication strategy and managers who know how to communicate across gender, cultural and age differences in ways that bring everyone together. Developing regular communication around future plans and strategy. Encouraging employees to talk openly because their opinions are important. Teaching managers to be better coaches, who engage and empower the best in their people
while also listening more and listening differently. Recognizing their efforts and also helping them to fail forward, to learn to use failure in a positive way that strengthens and grows cognitive dexterity, curiosity, creativity and grit.
Investing in the employee as an individual, by helping them build strengths that will help their lives in addition to their role in the organization.
What makes a really effective employee engagement programme?
A really effective employee engagement program starts with defining what you want to achieve, the challenges you want to overcome and who will be eligible to join the program. It is critical to make sure that employees understand what the company really wants to accomplish and that they feel that they are part of the process, that their input is valued as is their work and that part of growing together is finding out what works and does not work.
Any best practices to share?
1. Senior leadership must see increasing employee engagement as part of the company's strategic plan.
2. Purpose equals profit. Senior leadership must clearly communicate the organization's vision, values, goals and commitment to its people.
3. Leaders need to be inspirational, enthusiastic, visible, and accessible.
4. Give employees a voice in helping to increase employee engagement and let them know they are heard. Find out what's working to engage employees and what they are thinking via surveys and social media – and then find ways to replicate and extend these "best practices" throughout the organization.
5. Build engagement by encouraging people to share stories of wins, growth experiences and the experience of failing forward.
6. Create opportunities for people to connect on a human, social level.
7. Develop learning initiatives that excite employees as well as opportunities to volunteer in the community at large.
---