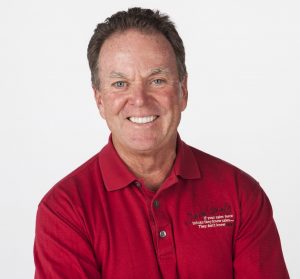 JACK DALY is an experienced and inspirational sales trainer and sales coaching expert, who inspires audiences to take action in the areas of sales management, corporate culture, and sales training. Jack is a proven CEO/Entrepreneur, having built 6 companies into national firms, two of which he has subsequently sold to the Wall Street firms of Solomon Brothers and First Boston.
Jack's role as a sales trainer extraordinaire has helped craft "street tested" sales methodologies that help create truly successful sales professionals and profitable companies. His professional sales trainer know-how has turned him into an accomplished sales coaching authority and author of books including Hyper Sales Growth, The Sales Playbook for Hyper Sales Growth and Paper Napkin Wisdom, all Amazon #1 Bestsellers.
Jack is an Ironman on seven continents and has completed 92 marathons in over 49 states. Jack received his B.S. from LaSalle University, an MBA from Wilmington College and held the rank of Captain in the U.S. Army.
---
What does organizational culture mean to you?
Organizational Culture is creating an environment in your business where employees don't get up and dread going to work, but rather jump out of bed enthusiastically with the concept of "hot damn, I work at a terrific company". In essence, creating an environment where people "want" to go to work, not "have" to go to work. This environment is based on the company showing consistently that employees are valued by the company. The key is to win over the hearts of the employees.
What are the major determinants of organizational culture?
I like to say that there are four legs to a strong culture. They are
1) Recognition Systems;
2) Communication Systems;
3) Personal and Professional Development Processes; and
4) Empowerment Processes.
Take special note of the words "systems & processes", to anchor consistency and not the "flavor of the month".
What is the role of employees in organizational culture?
The role of employees with regard to culture is to
1) buy into the vision and values of the company and
2) help protect the processes that reflect the desired company culture
Those folks who are not practicing the culture ingredients need to be brought into those processes, or exit the company as they are inconsistent with the agreed upon culture processes.
What are the common problems associated with managing organizational culture?
The most common breakdown or problems with organizational culture are
1) the absence of clear vision of the culture;
2) the absence of a Culture Playbook, detailing out the winning systems and processes of the culture; and
3) the absence of accountability.
What are the ways to innovate company culture? Any best practices to share.
In order to get a Company Culture underway, there needs to be agreement and commitment by the Leadership to the importance of the Culture and what the pillars of it will be. Next is someone in the Organization needs to "own" the culture, and thereby be accountable for it. Next comes defining through what I call a Culture Playbook, the agreed upon systems and processes which will reflect the company's culture. Implementation can best be described as "How do you eat an elephant? One bite at a time". As an example, I've found implementing things that are widely seen as positive and are simple to execute are the best, to begin with. Handwritten notes are one of the most powerful ways of recognizing people yet so few leaders take the time to do so. People keep them for years and some even frame them (much more powerful than an email or text). Birthday and Anniversary cards sent to the home are another powerful process, rarely done today. Throwing a welcome "party" for new hires versus the more common "leaving party" for when people quit! When things are this simple, then, how come they are so rare? I think it comes down to this: "People and Companies tend to underperform to their capabilities because they rush to the urgent at the expense of the important." I leave you with this question – What are you doing to win over the hearts of your people?
---