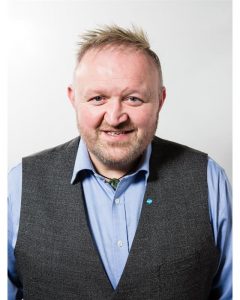 Perry Timms is a global & TEDx speaker and consultant on the future of work, HR & learning which was recognized by his inclusion on HR's Most Influential Thinkers List for 2017.
Perry's first book "Transformational HR" has already become an Amazon.com Top 30 HR seller. You can find Perry online at www.pthr.co.uk or on Twitter (@perrytimms) and his blog Medium.com/@PerryTimms
---
In the world of work, we're already WAY into the next stage of organization design and stage of development.  The World Economic Forum calls it the Fourth Industrial Revolution.  It's the connected age.  Past the knowledge and even creative economy.
With it comes a whole new series of sensibilities around what the role of work, people at work and how we are being in our work.
Being is a word I've used very deliberately.  Because we "do" work; being with our work is more about this concept of wholeness – our whole self.  It's a coming together of not just a working proposition to provide economic surety, but something about us living a life where our work is integral to who we are and how we're being in life.
But surely, some might say, if you don a bright fluorescent jacket and make car parks secure; or don an apron and serve people coffee; or don a badge and serve people in a retail outlet ; or don a uniform and clean a care home, you can't describe that as any state of "being".
Well, I beg to differ. For some of us – many of us – might not find who we are through our work but we might not find who we are in any walk of life.  Defined not by socioeconomic status; locality or educational attainment, work is – in my view – not something that keeps the masses from revolting; or suppresses people into a life of servitude.
What does employee engagement mean to you?
It's a means to be an actively participating citizen of the world and a means to be part of a contribution to something greater than yourself.
How secure would car parks be without you?  How much love can you put into making a coffee for someone?  How much joy can you bring to someone helping them choose the perfect gift for a loved one and how much care can you put into the cleanest place for people in their twilight years?
It's this engagement I like.
What are the common causes of employee disengagement?
It's the engagement agenda that is borne by a company board wanting to appear to look good and not be embarrassed by its low levels of support for their own people that I don't like. The gaming of the engagement rating system if you will.
And some may declare "But the people don't care as long as they're paid".
What are the drivers of employee engagement in today's fast-moving world?
Well, we can all find something we're proud of, stand for and believe in that HAPPENS to be work that needs doing.  We often find ourselves in the wrong role but tolerate it for economic and even self-esteem issues.
Employee Engagement's next iteration is, I think, already underway. The advent of Employee Experience has given us a frame of reference to think more about the way people feel about their work beyond the exchange of labor and creativity for money.
So I'd like to see us exceed what marketing and business insight has done with data on the Customer Experience.  In pursuit of a competitive edge, this area has delivered data and personas that help us build a case for the best possible experience in purchasing and consuming our goods and services.
What makes a really effective employee engagement programme? Any best practices to share.
In the world of work, it's more important than that even.
How can we truly use employee engagement to obtain the insight we need to be just, fair, honorable and productive places of work that have business aspirations, targets, and propositions to deliver.
I'd, therefore, like to us unlock the secrets of how to create a working experience people love – not tolerate or are consumed by (because overwork is as bad as poor work).
One where we teach good corporate citizenship because we are liberating people to discover who they are, and all the time creating the best company to work for and to do business with.
It's doable if we decouple from our revenue-based obsessive management and instead turn over businesses to thrive on the power of people set free.
It's time for employee engagement to mean more than a dashboard. Whoever cracks this, will become the Google/Amazon/Facebook/Apple success story of the world of work.  And they might just see their name added to the GAFA acronym.
---