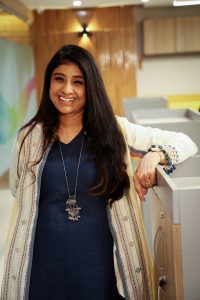 Purvi Bhavsar, a first generation entrepreneur from Ahmedabad is the co-founder of Pahal Financial Services Private Limited, a Leading Non-Banking Financial Services Company (NBFC-MFI) working in the area of microfinance and enterprise lending.
She has a prolific experience of over 27 years in the areas of BFSI-(Banking and Financial Services Industry ) and Telecom having worked in some of the most reputed organizations of the country like Kotak Mahindra, HDFC Bank, ICICI Bank and Vodafone India. She has very diverse exposure across the entire spectrum of Corporate and Retail Banking, Consumer Finance, Stock Broking, Distribution, Customer Service and Micro Finance. For her pursuits, she was awarded one of the "leading women in telecom industry" during 2010-11. She was recently recognized as Top 10 women in Finance – 2020. She is currently serving on the board of an affordable housing finance company.
She was selected for a scholarship program run at IIMB as a part of Goldman Sachs 10K women program-2019. She has undergone a program run by Stanford Seed India (2019-21) and has received a scholarship. She has mentored fintech start-ups as a part of Stanford Spark program apart from other agriculture (Buddy- IIMB) and other impact start-ups.
She has very diverse interests – ranging from travelling to gardening and incubating social enterprises.
Here are her key experiences in the industry in relation to the current COVID-19 pandemic situation.
---
What is the impact on employee performance in the pandemic situation?
Thankfully, there is no major impact on the performance of the employees. There have been very challenging situations and difficult times – particularly when employees got infected with Covid but our people are highly motivated and well connected with the organization and that has helped us a lot.
Have you taken any proactive measures to maintain employee performance?
We have our field employees working at least 100-200 kms away from their home location and hence priority was to ensure they reached home safely as soon as the first national lockdown was announced. To ensure this, HR and Operations team ensured they tracked each employee.
During lockdown, salaries were processed and paid before time to support the employees.
No lay offs and salary cuts were implemented during the most difficult times.
Extra leaves given to the Covid impacted employees while ensuring full salaries were paid
Life Insurance cover was introduced besides the existing health insurance.
One year salary to the family of the deceased employee due to Covid 19 is in effect.
Immunity boosters were distributed across 7 states to all employees and their families on 4 occasions.
Will there be any changes to existing appraisal methods? Process & Frequency?
We had to skip one cycle of appraisal but after that appraisal process and the frequency has not been affected.
Do you think formalizing feedback and/or regular performance check-ins will make a difference?
Yes, it makes a difference.
What, according to you, is the ideal frequency of check-ins should be so that it becomes effective but not burdensome for both employees and managers?
At least two formal feedbacks in a year are a good frequency. Ideally, without waiting for the formal occasion- informal feedback should be given at the right time and that is more effective.
In this scenario of crisis, what steps are being taken to ensure clarity on work objectives/goals and their priorities?
Our People, their safety and well being is always our priority and in current situation it becomes even more important.
Communication in difficult times is more critical than ever and hence we are trying to reach out to all our employees acknowledging the difficulties that they are facing, giving them comfort that we are with them and clearly communicating the company goals and objectives. This is helping us create a good employee connect.