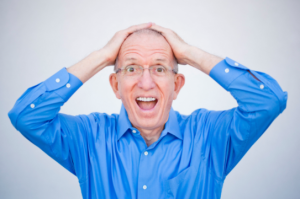 Tony is the former Ambassador of FUN for the highly successful Southwest Airlines and one of the first to pioneer the positive culture movement in corporate America.

Based on principles he helped to lead, research, and spearhead at Southwest Airlines (as their internal and external "Ambassador of Fun"), Tony Brigmon shares how to create a fun, profitable work environment where employees/teams are internally energized to do their best, work with each other productively, and in a positive environment that's good for employees, leaders, and customers. 
Fun was serious business at Southwest because Fun creates serious results.

And Tony

shares

 time-tested "Serious Fun — Serious Results" positivity best practices in his FUNOMENAL presentations.



Tony Brigmon:

The Face of Southwest Airlines culture as their official "Ambassador of FUN"
Awarded Southwest Airlines most Prestigious Award, the President's Award (out of 2000 + employees)
Southwest Airlines "Insider" delivering best practices and concepts learned & observed at Southwest
2000 + conference presentations delivered worldwide
More than a quarter of a million attendees impacted!
Fun, high-energy, interactive & content-rich presentations


---

What does organizational culture mean to you?

For me, it means pretty much the same as this definition:

"The

 

shared values 

that have a strong influence on the 

people in the organization and dictate how they dress, act, and perform their jobs."




What are the major determinants of organizational culture?

Shared Goals – Shared Knowledge – Mutual Respect. 

Dr. Jody Hoffer Gittel, 

the author

 of The Southwest Airlines Way, cites these three principles

as what separates Southwest Airlines from the other airlines and sparks their culture of fun (positivity), outrageous customer service, and legendary productivity. 

While serving as Southwest's Ambassador of FUN, I had the privilege of doing 17 presentations With Dr. Gittell around the country to help launch her book. Jody is a delightful lady and respected researcher. 

In my keynote presentations (over 2000 of them now), I sum up these three principles with my original quotes below. 

Shared Goals: 

If the Dream is not a Team Dream, you cannot have a Dream Team. But what you will have is a nightmare, only this one will be real.

Shared Knowledge: 

Tell me what you know for sure (from your experience). I'll tell you what I know for sure (from my experience). And we'll both walk away knowing more, for sure (from our shared experiences). 

Mutual Respect.

 The boomerang of respect gets you a better return than the hand grenade of disrespect. Everyone has an important role as a respected member of our Dream Team. 





What is the role of employees in organizational culture?

To culturally "walk the talk" day in and day out with

the most important person 

they will interact with on any given day: the person in front of them. 





What are the common problems associated with managing organizational culture?

One of the common challenges is how to inspire leaders to model the values the organization espouses in their treatment of employees. Too many leaders don't realize that the way they treat their internal customers (employees) will be passed on to the external customers. And when disrespected employees "fire" their leaders, it's only a matter of time before the organization makes it official.


What are the ways to innovate company culture?

A

ny best practices to share? 

Innovation is sparked by the questions you ask yourself and others, both when you're in fun and also when things are not so fun, like when dealing with negatives and stress.

While our competition was asking "Why me?" under stress, at Southwest, we were asking "How can I? How can we?" instead. We discovered you get betters answers with "How can I? How can we?" than with "Why me?" Really.

When leaders ask team members for their input with challenges, they find they not only get innovative solutions but also loyal support. People will support what they help create. Go figure.

The Best Practices that will serve any organization well would be tailored versions of "How can I? How can we?"

Here are a couple of my favorites:

How can WE have more fun, get more done, and bring out the best in everyone?

The team that can have fun together will get more done together.

How can I make this person's day? or, How can I turn this around?