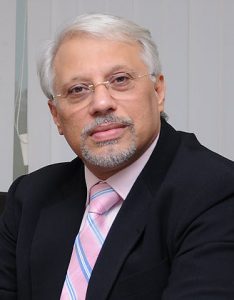 A seasoned business professional having led companies at the Board levels in diverse industries like Manufacturing, Services, FMCG, Infrastructure, and Retail, Adil grew through the ranks of different organizations…performing diverse roles in the areas of Business Management, Law, Human Resources, Marketing and Employee Relations.
Currently, the CEO and Managing Partner at The FiRM, a consultancy of senior industry practitioners to provide value-creating support, business turnarounds, organizational transformation and leadership coaching.
Passionate about People, Adil is a voracious reader, fond of poetry & music, indulges in humorous doodling, calligraphy and loves public speaking.
Being an Appreciative Coach, he believes… 'no fun, no learn'. Have coached several top CEOs till now.
Began at 19 as a Legal Assistant and have now reached the top management echelons. The quintessence of the journey is based on the learning … 'one first needs to be a good person. Everything else follows! '
---
How important is Performance Management (P.M.) in today's high-flux organization?
People are an organization's prime value creator. High influx or low, at all times, getting value out of people is critical to its success. Organisations invest serious money in acquiring and retaining talent. Performance Management system is very critical to keep an ongoing track on the returns of the enterprise on its investment in People resources. The analogy is similar to investing money in buying a potentially rich coal mine. If you do not extract coal at an effective rate from that mine for generation of power or for sale, your return on investment in that 'rich' mine is actually bad.
The absence of an effective Performance Management system leads to further blind investments in talent without realizing its returns in the first place. Course correction of a talent decision going wrong cannot be taken if the organization does not effectively measure the contributions of its people, in the first place.
In the intense current market situation where resources are under tremendous pressure and getting a higher return from investment has become a critical need, performance management becomes literally a life-giving process of the Company.
Whose responsibility is Performance Management?
In the new 'Board' Managed World, a Board needs to have a serious oversight of the enterprise performance management system. How else will the Board ensure to its Shareholders that the Annual Operating Plans of the Co is realistic and the Co is equipped with adequate top-end performing resources who have the ability to convert that Annual Business Plan into a reality?
In sequential order, the Board, the CEO and the Operating Managers own the process and are responsible for ensuring the performance of talent in their teams respectively.
It would be a folly for any Organisation to pass the total responsibility for Performance Management to its HR department. Your child's nanny cannot be responsible for your child's nurturing. Whilst HR can provide expert subject knowledge, design the process, coach the Managers and train the people, Business Managers are the real-time HR Managers for the talent in their teams.
What are the key gaps in current industry practices in managing employees' performance?
Albeit to a lesser extent, Industry continues to grope with its classical challenges in Managing people performances. The 8 continued flaws in the Performance Management Systems are :
Inadequate goal setting exercise.
The absence of objective goal setting.
Not aligning KRAs to the approved Business Plans.
Measuring philosophy is based on 'goals-missed' and not on 'goals made'.
The absence of performance anchored conversations….. discomfort indulging in performance-related discussions.
Paternalistic protective instincts to cover up non-performance.
Rotating joy in sharing rewards performance rating skewed. Arguments generally revolve around 'we have no non-performers..'  we have already chucked out all non-performers.
Continued reliance on classical 'bell-curve' which operates at the top end, bulges at the middle and absolutely tapers at the bottom.
Other than better pay or job roles, what are the main reasons why people change jobs?
'People join Companies but leave Managers….'. We have all heard this. Partially true but it is more dramatic and oversimplification of a complex reality. Haven't we all as seasoned Talent professionals experienced talent attrition in COs even when the Managers have been extremely good ???
The 10 reasons that I have experienced for people getting disillusioned in an enterprise which slowly induces them to move-on and seek alternate career options elsewhere.
Restraining Culture rigidly resisting the new transitions.
Bureaucracy in decision making and
Better growth opportunities.
Involvement with customers and suppliers discouraged.
Disconnection from the strategic elements of business and is only seen as a pair of hands to execute.
Disengagement with the core processes of the organization.
Learning exposure low within the organization.
Non-fulfillment of promised value-propositions.
Non-influencing political leadership.
Poor employer brand perception.
What makes a really effective P.M. programme? Any best practices to share.
Authentic – evidence-based –  ongoing  – performance anchored appreciative conversations distinguish between an effective and an ineffective Performance Management system.
– Authentic
– Evidence-Based
– Ongoing
– Performance Anchored
– Appreciative Conversations