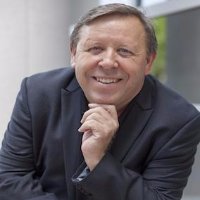 Gordon Tredgold is a business and IT transformation expert who has successfully delivered $100 million programs, run $300 million departments, and led 1,000-staff teams for Fortune 100 companies. Now, he coaches businesses and executives. He's also an international speaker and published author. His mission is to help people become better leaders who deliver amazing results.
What does employee engagement mean to you?
Employee engagement is the difference between success and failure, and its a leaders number one job to get their teams engaged.
Engaged teams go the extra distance, they deliver better services, and they achieve better results. Engaged employees stay longer with companies, they're more committed and help build a culture that delivers sustainable success. Leaders engage their teams by giving them a sense of purpose, providing them opportunities to develop and advance, and putting them into positions where they can be successful. People are not afraid of hardworking, they're afraid of failure, and that fear of failure can make them become disengaged. If their leader doesn't care about them being successful, then why should they care.
How to measure employee engagement?
You can look to measure engagement by taking surveys, but the real measure is the side effects and benefits that you see. If your company has high turnover, high absence then you have low engagement. If your company underperforms compared to others in your sector you have low engagement. Whereas if your staff work long hours without being asked, if they deliver above average results then you have high engagements. Don't look to measure engagement per se, look to see if you are achieving the benefits.
What are the common causes of employee disengagement?
#1 Poor leadership.
#2 Disengaged Leaders.
In the majority of companies, I consult with these are the primary reasons for low engagement. Now those leaders will give you a whole raft of different reasons, but 95% of the team these are the real reasons teams are disengaged.
What are the drivers of employee engagement in today's fast-moving world?
Sense of purpose, connection with the leader and the company, the opportunity to be successful. A feeling of being cared for and important to the company.
What makes a really effective employee engagement programme? Any best practices to share.
You can put programs in place, but good leadership is the prime driver of engagement, followed by opportunities to develop and advance, so those would be the things that I would focus on.
---