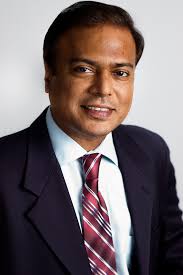 Rajesh Padmanabhan is with Welspun Group as Director and Group CHRO. He is a member of the Group Council.
Prior to this, Rajesh was President and Group CHRO, Vedanta.
Rajesh, who has post graduated in HR as well as finance, from Narsee Monjee Institute of Management Studies, started his career with the ICICI group, handling systems on mainframes, and went on to become a corporate banker for wholesale banking.
In Vedanta Resources, he created the platform for enabling businesses with cost-effective strategies and effective global leadership. He ensured the growth of the people with a clear vision, capability development and high engagement levels across the group.
At Welspun, he focusses on culture building across the group, leadership effectiveness and helps create people processes and excellence. He is building people excellence through centers of expertise and business embedded HR and is a keen driver of digital and innovative practices to create new age HR function.
---
What does employee engagement mean to you?
For me Employee engagement is the extent to which employees feel passionate and involved about their jobs, are committed to the role & deliverables, cultural connect with the organization and voluntarily own the overall purpose.
How to measure employee engagement?
Though employee engagement has a lot of qualitative aspects attached to it, there are few mediums in the system, the output of which can be used to draw a correlation with engagement level of employees. To name a few:
– Pulse surveys
– Skip meetings with employees
– Exit interviews feedback
– Low turnover percentage/Low absenteeism percentage
– Customer ratings/feedback
– Managers 360-degree feedback
– No. of employees giving process improvements/innovative ideas
– Employee Referrals
– Employees participation in engagement events
– Business output/productivity/profitability
What are the common causes of employee disengagement?
Nothing is more harmful to an organization than a disengaged employee, as the impact is not limited to one individual and his performance but also on the group he/she interacts with being negative brand ambassadors. Few common causes can be:
– Manager – problems with direct supervisors account for most of the cases of disengaged employees
– Lack of respect or confidence in senior leadership, lack of organization direction (strategic alignment), and poor performance and quality standards
– Unsupportive Team
– No Growth opportunities
– Lack of recognition
– No or limited tools to perform the job (no empowerment)
– No learning
– No Personal expression (Voicing Opportunities)
– Clash of values (Personal & Company)
What are the drivers of employee engagement in today's fast-moving world?
Companies have long back realized the disadvantages/impact of losing their engaged employees and hence a lot of focus is been given on maintaining an engaging environment at the workplace. In today's context, few important drivers are:
– Strong Management/Leadership – The leaders of the organization need to be committed to making their organization a great place to work.
– Transparency – Communicate future plans and strategy openly with everybody
– Encourage employees to talk openly and engage in giving and receiving feedback
– Recognize employees efforts
– Employee developmental initiatives
– Pay as per performance
– Encourage employees to bring new projects to the table
– Relationship's with co-workers – Foster caring and healthy culture
– Inclusive and employee friendly Policies
What makes a really effective employee engagement programme? Any best practices to share.
I would like to highlight three most important ingredients according to me which are must-haves in today's time for an effective engagement programme.
– Design initiatives keeping in mind the values of the organization
– Use technology as the base for immediate communication, connect, & engagement
– Build inclusive and diverse workforce
Best Practices:
Welspun
Welspun has employee-centric values to keep pace with the new age environment. We are running a full-fledged cultural transformation initiative called Welspun 2.0. It is anchored on Customer Centricity, Collaboration, Inclusive growth, and Technology.
To quote briefly some of the best practices that we have:
– We are building a diverse workforce, and one of the important agenda is to have 20% women employees of the total headcount. Also, we have adopted a village (Versamedi) in Anjar, there we have worked on providing basic facilities and most importantly job opportunities to women. The model has worked really well and we are in the process of adopting more villages. We also have more than 200 differently abled employees working for us in a supportive environment.
– We have invested significantly in technology and today all our processes are online, which has made life very convenient for our employees
– From an environment conservation perspective, there is huge sewage treatment plant at our Anjar location, where recycled water is used in the plant.
---