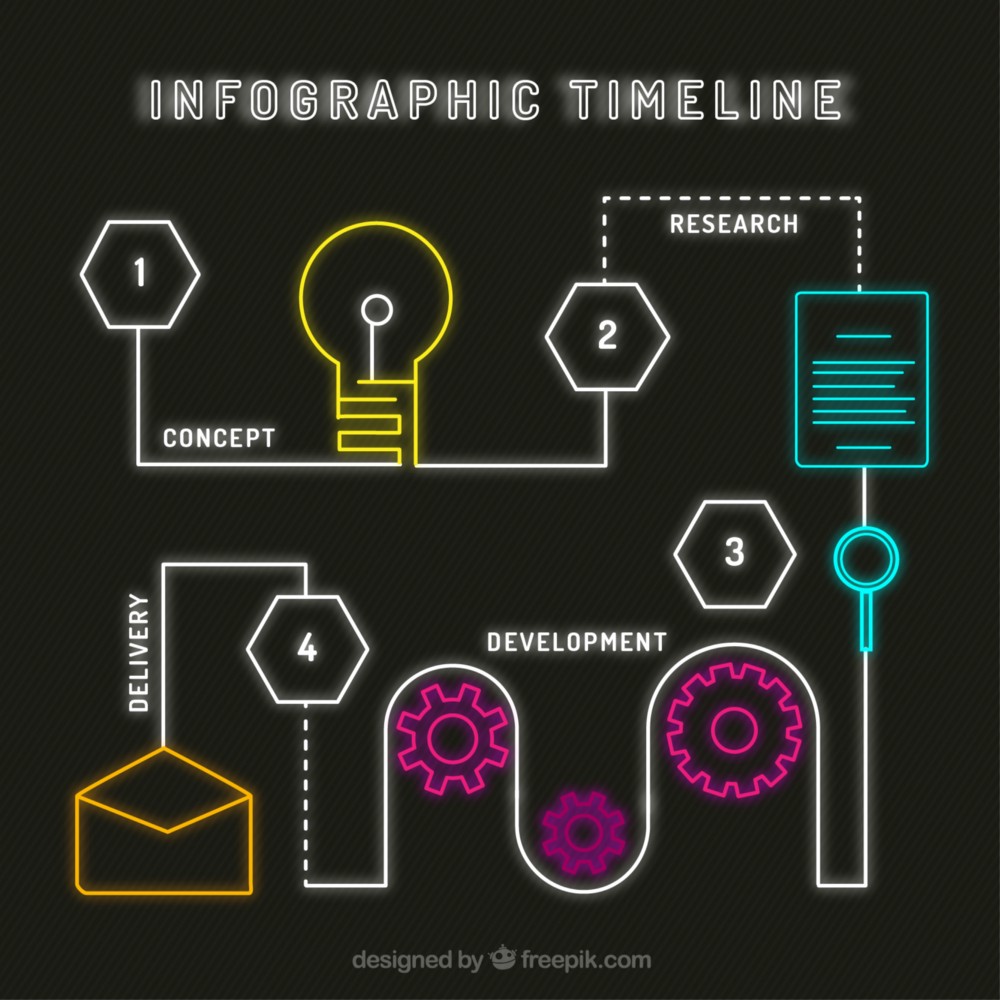 During World War II German Military first started gathering feedback from multiple sources in order to evaluate performance. After being first introduced in the 1950s to gather information from employees, 360 Degree Feedback has made rapidly into the corporate world. With 90 % of Fortune 500 firms using 360° Feedback and one-third of US companies use multi-type – feedback.
But let's get down to the basic definition of what 360° Feedback is:
"360 Feedback is the process of getting feedback from various stakeholders an employee deals with viz Senior, Junior, Peer, Customers, Partners/Vendors, and Board Members. The feedback is taken on relevant work behaviors that feedback owners are in position to fairly evaluate"
360 Degree Feedback is mainly used for development purposes, where information from the feedback can be used for employee work skill and behavior development. We all have blind spots, hidden strengths and need to improve our self-awareness and this is what 360° Feedback helps us to do, by getting someone else's perspective. Someone, who we are daily interacting within our workplace and has a perception about you.
What we have seen, 70 % of Human Resource use 360 Degree Feedback mainly for the following category:
C-Level Executives, VPs, CEO-COO

Top Performer Mid-level Executives

Employees of organizations operating in niche industries and domain
We come across a lot of people wanting to do 360 Degree Feedback but are unable to understand where to start from.
Well, this is a detailed step by step guide on what needs to be done to conduct a 360° Feedback at your place.
A lot of places 360° Feedback is also used in Performance Appraisals and final promotion. Please do not confuse this with 360° Performance Reviews. We will also discuss how 360° Feedback can be used in Performance Evaluation.
Before helping you to have a step by step guide, here are some key hygiene points which are a must before you go ahead and conduct an effective 360° Feedback process. Though these touch points can form a separate post, here is a quick rundown through it:
The objective of the process: The end result should be clear on how the 360° Feedback process should be used for Employee Development, and improve work/behavior skills.
Documentation and Conduct: 360° Feedback is a process with some needs :
Feedback should be anonymous and only be seen by the administrator(s)/management

Relevant feedback questions asked to Feedback providers as per their interaction with the employee

Compilation of Feedback data should be solid, reliable for psychometrically analysis.
If you conducting a 360 Degree Feedback for 5 people with maximum 2 Reviewers for each, then it is still at manageable if you doing it manually on Excel or Google Sheets. We would strongly recommend getting a 360 Degree Feedback System for conducting an effective 360 Degree Feedback analysis.
Trained Providers: The Feedback givers have to be trained properly to make sure the process is not invalidated, otherwise the inputs can be moot or destructive. Simple instructions can be given; for example, Avoid Non-personalized phrases ("You're a rockstar!" is vague and never helped anyone.) Feedback providers need to be conscious of how they phrase things to make it workplace fair and performance-based.
So, to start, you can be a pro to any specific step and look into any steps:
Step 1: Configure the 360 Feedback Process
– Decide the Period: Define the period of the Review. Here you decide what the Review will be denoting the performance for which timeline.
Understand that this is not the Review frequency, i.e. how many times you would like the 360° Review to happen.
– The frequency of 360 Degree Feedback: Decide, how frequently you would like to have a 360° Feedback process. You may just look at it as a one-time process, but then it's a bad idea! How you will process how the employee has improved over the past feedback and implementation.
The frequency of 360 Feedback can be Monthly, Quarterly, Half-Yearly or Annually. We would recommend to have Quarterly 360 Feedbacks or at Max Half Yearly.
– Decide the coverage of the 360 Feedback, i.e. who all in your organization will be covered in the 360 Feedback. Do you want all the departments to go at once, will there be separate reviews going for C-Level executives and Mid-level ones?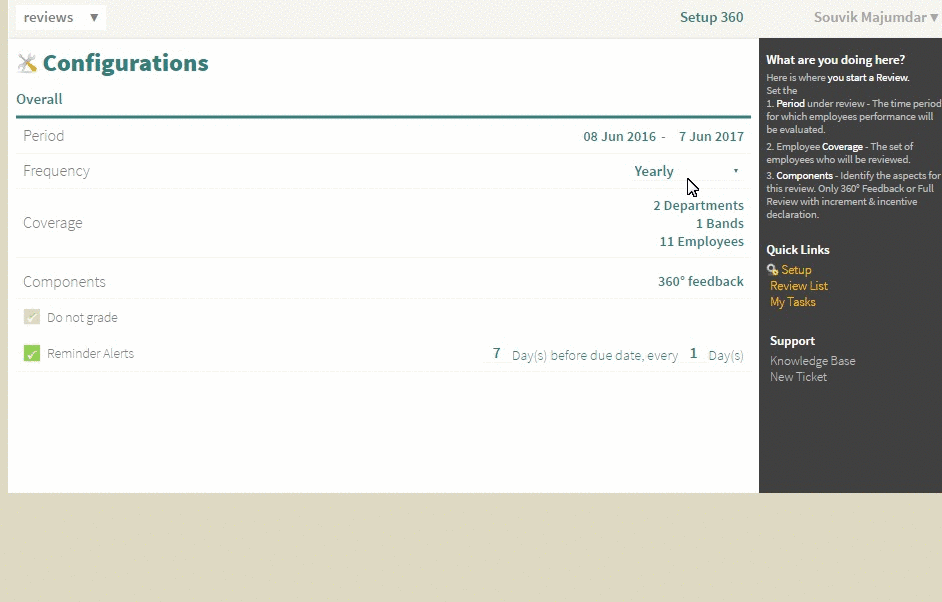 No matter how much we say it, putting down things and documenting has a different effect and helps to separate the sound from the noise. This will the first step to formalize and document your entire process.
Step 2: Define the number of Feedback givers
–  You have to decide the type and the total number of Feedback givers. Decide the highest upper limit of feedback givers for any employee.
For example, a person can get up to 4 senior feedbacks, 7 peer feedback, and 3 junior feedback at max.
–  Make sure the number you select for feedback providers is an adequate representative sample so that the feedback is representative.
–  Do you want the employee also to also give Self-Assessment? A vital part of 360° Feedback and is recommended to have a Self-Evaluation. Employees may perceive themselves as one thing, but it's important to understand how people are thinking about your approach. This also helps to find out blind spot and hidden strength (discussed later) in the report analysis.
–  Note you do not decide here, who will be the 360° Feedback providers here. It's just the number we are giving.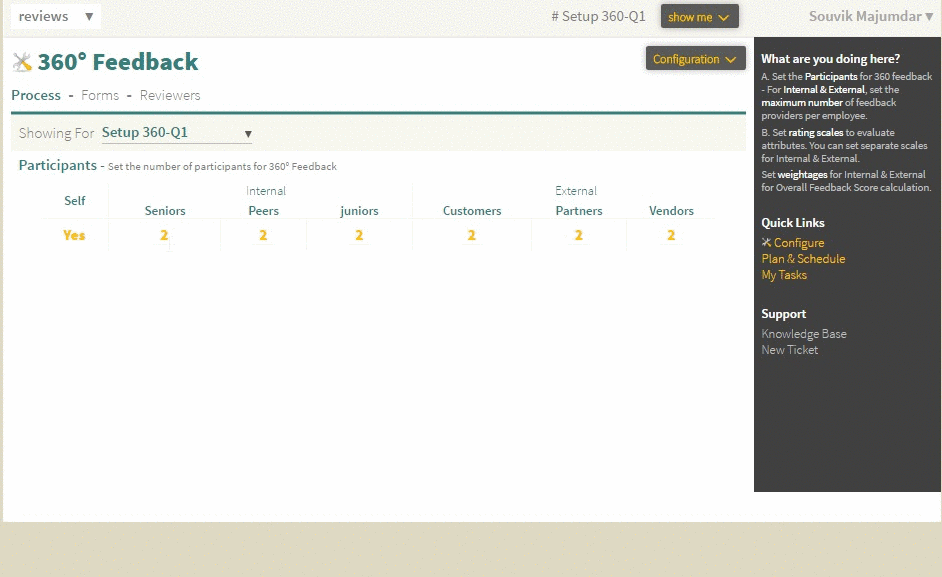 Step 3: Set Feedback Attributes
Foundation of 360° Feedback is the types of questions asked and their relevance. You have to ask either Work-related Behavioral attributes or Performance Attributes or a combination.
–  If you selecting Work Related Performance Attributes you can put in points like
a)      Gets things done
b)      Listens Carefully
c)      Gives Feedback and direction.
d)      Expresses Information and priorities clearly.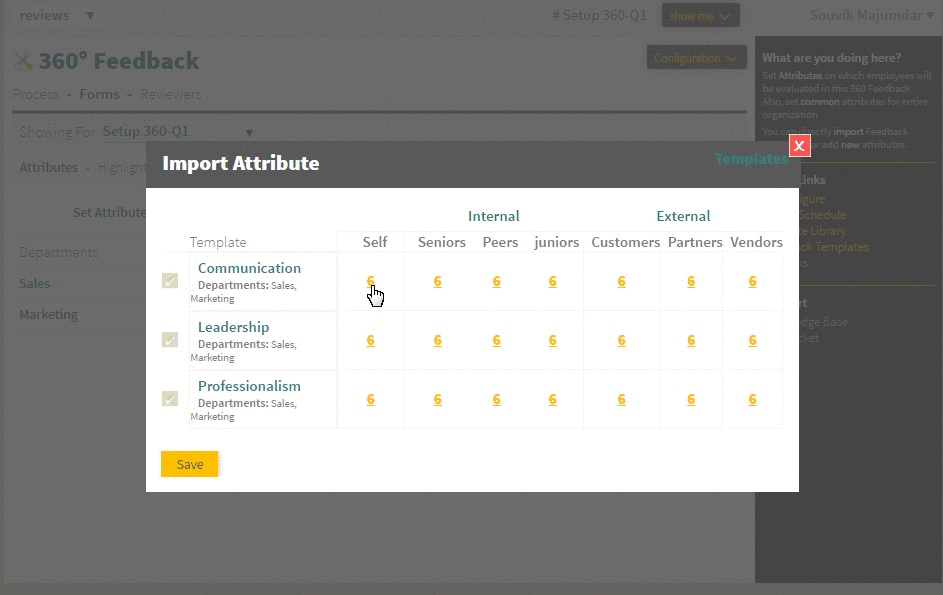 –  For rating scale, you can use a Likert Scale. The format of a typical Likert Scale can is defined here
A)    Strongly disagree
B)     Disagree
C)     Neither agree nor disagree
D)    Agree
E)     Strongly agree
You can link the values of the scale above to numerical values, to help you asses and get a quantified result.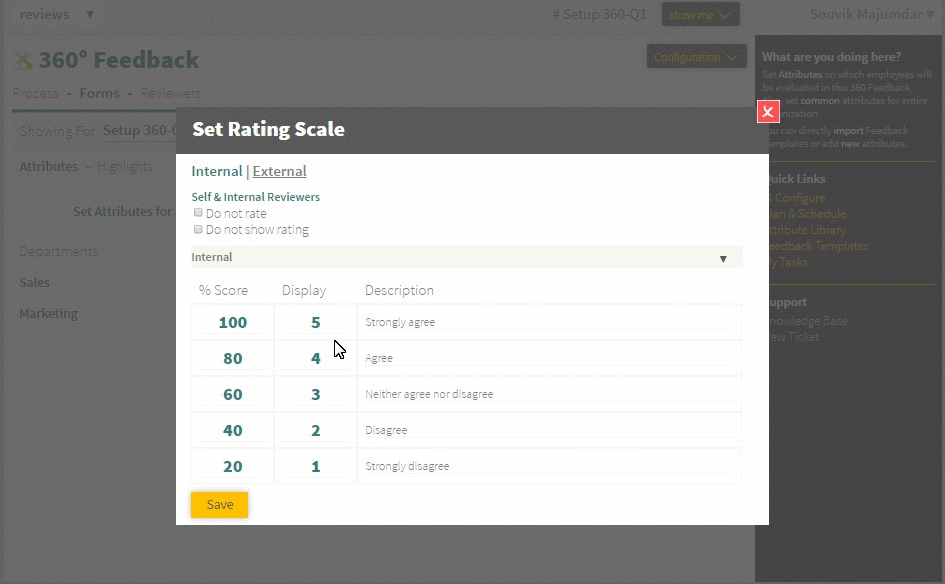 –  Work-Related Behavioral Attributes are the other type of questions you can ask. Examples of these Attributes are :
A)    Thought Leadership
B)     Personal Connect
C)     Problem Solving
D)    Effective Governance
Here you can rate employees differently. You can ask Feedback providers to indicate the Top 5 Strengths and Top 5 Improvements.
–  Work-Related Performance Attributes, as well as Behavioral Attributes, can be segregated into different perspectives like Internal Process, Customer, and Execution Focus. This will help the feedback owner a better understanding. Apart from a quantitative rating, make sure there is qualitative data also provided by the feedback owner.
–  Apart from Attributes to be rated upon, you can free text boxes for subjective questions for various comments
Some of the questions that you can ask feedback providers:
A)    2 Work traits you should start with
B)     2 Work traits you should immediately stop
C)     Any Behavioral Suggestions
D)    Work Traits to continue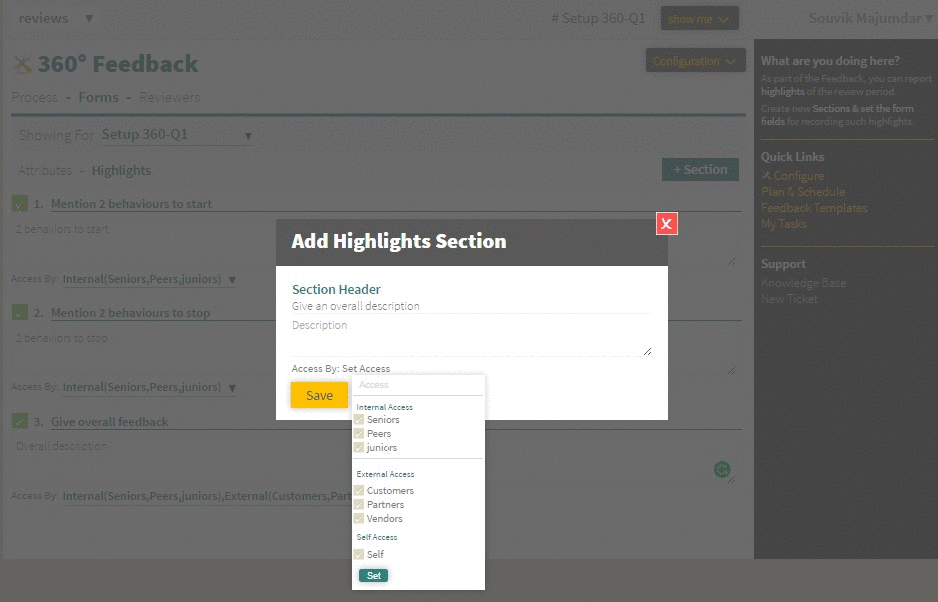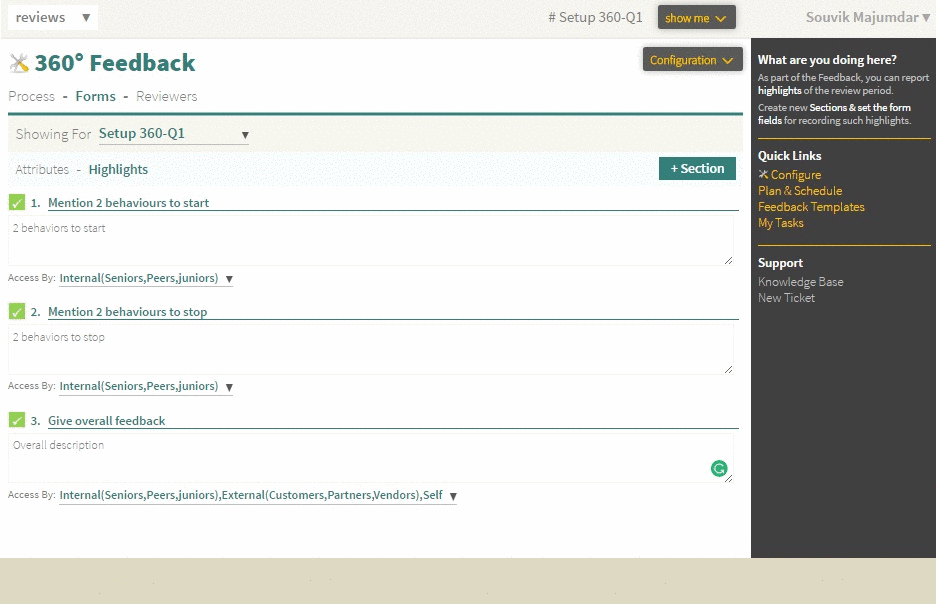 Once you have designed the Questionnaire/360° Feedback form, edit the form for different access. You may want the senior to answer a different feedback attribute about the employee, the junior something else and customer something else. The segregation of questions for various feedback givers should be based upon adequate familiarity with employee's work behavior, otherwise, the feedback can be moot, destructive and invalid.
Step 4: Setting Feedback Providers
Either you as an admin can select the feedback providers for all the employees. You can decide who will be the senior, junior, peer providing the feedback. If external customers are allowed then decide the Board Members for you CEO/COO, Customers for your Sales and Account Management teams, Vendor or Partners for vendor related roles.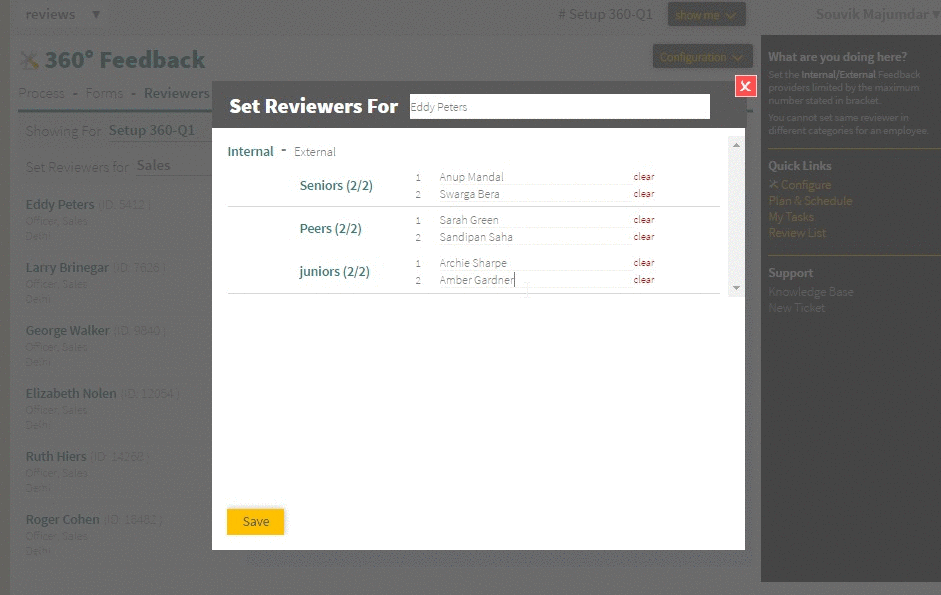 To make the feedback representative, select Reviewers (internal/external customers) to make sure that feedback is representative.
What if Employees want to select their 360° Feedback Reviewers?
This is a good practice where you allowing employers to select 360° Feedback Reivers. Define a timeline within which they can select their 360° Feedback Reviewers. Once the selection is done by them, make sure that you can edit the list. This will make sure that a fair size and names of employees are selected to give the Review.
 Step 5: Define the timeline and set up monitoring
Sticking to a review schedule is important and will help you to complete the process within a certain time in a disciplined manner.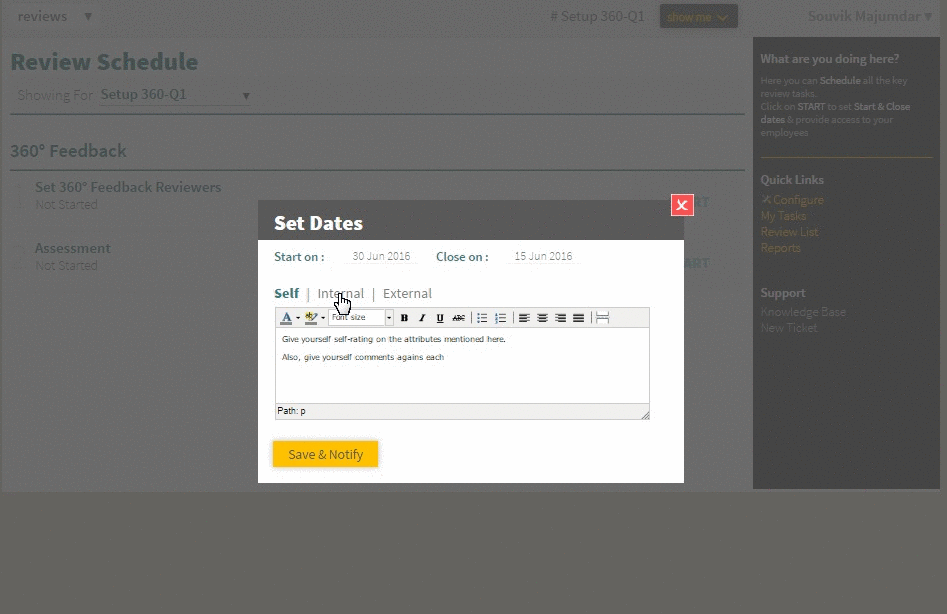 Monitoring allows you to see if everyone has provided feedback, constant reminders are sent out to employees so that they complete the form in time.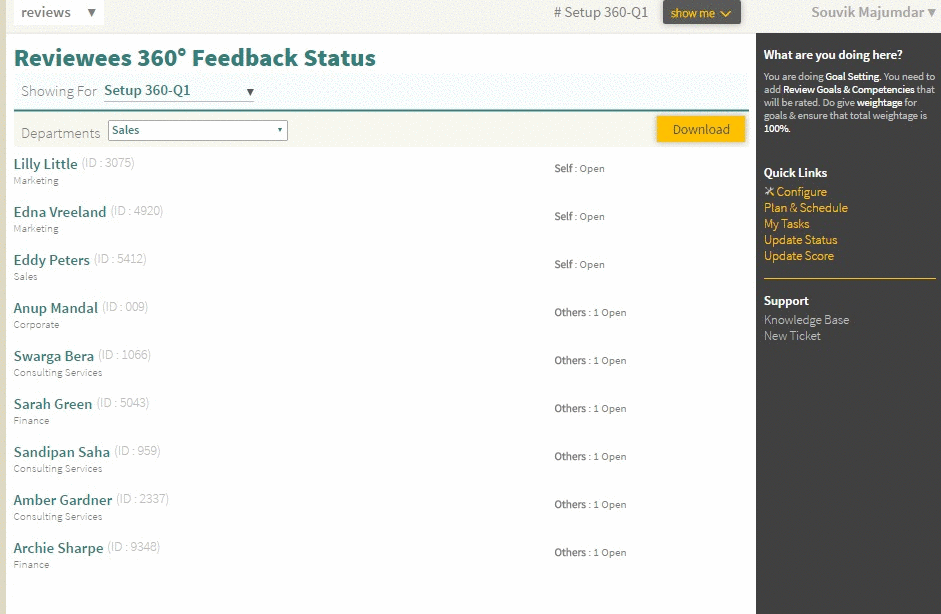 Step 6: Analysis
The above 5 steps are only 50 % of the work done. Analysis and follow up to that with development plans is the crucial part.
Just remember that 360° Feedback needs to be anonymous to the employees. They have the in-depth analysis but cannot know at a macro level the feedback provider.
List the greatest strength of the employee:
Identify the greatest strengths and show them to the employees. If you have selected Work-related Performance attributes or a Likert Type Rating scale, display strengths in descending order of the highest overall scores from each respondent group.
Below is a snapshot of a possible calculation:
If you had selected Work Related Behavioral attribute and asked the employee to mark the top strengths, rank the Attributes as per the highest percentage responded by the group.
For your reference, have attached a possible calculation:
List the development opportunities:
We are typically not trained well to take negative feedback. So how do you perceive the weakness and those attributes where the employee did not get a good rating?
Name them as development opportunities
Like Greatest strength for Work Behavior, identify the attributes which received the lowest overall scores from the respondent group.
If you had selected Work-Related Behavior Attributes and asked the employee to show weakness, showcase the Attributes rated the most in Improvement.
Hidden Strengths:
Hidden Strengths are typically those Work attributes (behavioral/performance) where others gave the person a higher ranking than what the person gave him/her. This is to showcase and bring in picture those traits which you don't realize but others see in you.
Blind Spots:
Areas for specific improvement. This is where the employee has rated themselves/marked as strength and others (in the majority) have rated lower or marked it as weakness. This helps to understand employee what is obvious that they cannot see and others can.
Question and Competency Detail (Optional):
You can have a bar chart depicting the gap in feedback ratings between Self and External as well as Internal Stakeholders.
Or you can do mapping for different Attributes and what every feedback group had to say about it. (What % of peer group thinks the Attribute as strength or an area of improvement?)
Remember, the idea here is to use the data obtained in a manner where employees understand the entire feedback process. A graphical representation like bar charts helps to map quickly the feedback and analyze the gap. Make the charts as such that it helps you and employee to plan employee development programs as necessary.
Comments by stakeholders on Start and Stop behavior for improved performance:
In the above steps, if you made sure that you allowing comments, like mention the behaviors to start and stop, make sure you represent that in the detailed feedback analysis.
You can categorize the comments based on Feedback groups. Make sure the comments are anonymous. It can be a task to slice and dice between comments if there are many, you may only wish to indicate those which can be used in a better manner.
Planning Development:
You did the hard work by setting up a comprehensive 360 Feedback process. Not only you involved all the possible stakeholders for the all the employees, but you also ensured the process was conducted was time bound, detailed and specific, data gathered for analysis and created detailed reports with insights to behavior and performance at the workplace. Now the important part comes in of following up on the analysis and plan development.
Development plans should be made to overcome the deficits. Earlier we made a section called Development opportunities which pointed out to the attributes which got the lowest overall score from each respondent group.
For example, Bob always thought that Customer Focus was his strength and was going to take a course in Project Management. His colleagues who loved Bob's work ethic and attitude thought a little different about Bob's attitude to Customer Focus and thought it can be improved. On hearing this, Bob is relieved and may have training related to customer focus. This also helped him tremendously to select the right development plan and move ahead in the career, as he may have selected a development plan for a skill/attribute which was already his strength, for example, may be functional and technical skills.
How you can connect 360 Degree Feedback and Performance Appraisals?
Though it's not a common practice to use 360 Degree Feedback with Performance Appraisals, as it is only looked like a passport to development plans and gauge skills.
If you are still insistent, make it a part of the Performance Review with maybe a 70 % -30 % rating distribution between Performance Reviews and 360° Feedback.
Since you may plan promotion and even compensation increment based, make sure the feedback givers have substantial opportunities to observe work performance of the employee, the feedback givers are informed that it will be for appraisal, have detailed weights(%-ages) for different components.
The above process was a very elaborative way how you can do 360° Feedback. One of the key challenges that a facilitator faces is managing the forms, calculations and the analysis to be done.
If a 360° Process is done well, it can be one those rare activities that someone's life is transformed in a positive way, and does truly influence career and changes lives.
Have a quick demo with our team and they will help you understand how GroSum will make 360 Degree Feedback easy and insightful for you :