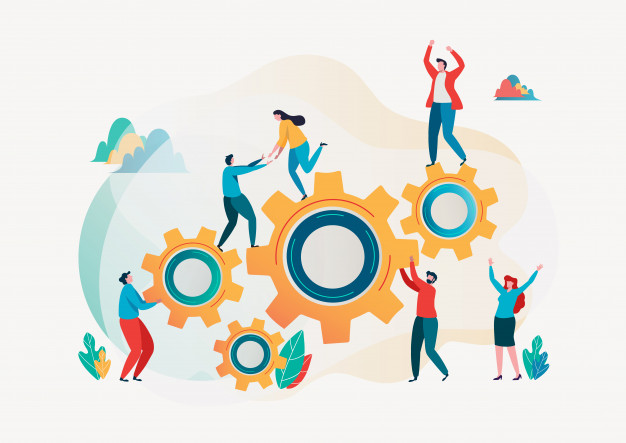 When we talk about a company's motivation to reach the top of the mountain, it might sound pretty enthusiastic and easily achievable. Unfortunately, many of them cannot reach the so-called "top" of the mountain. It's a rather rough and all-consuming journey. What is their secret for growth? Well, the answer is quite simple. They all use OKRs.
What is OKR?
OKR stands for Objectives & Key Results. It is a goal-setting methodology. In this methodology, growth is characterized by achieving higher standards than the established boundaries. In simpler words, OKR is a fast, easy process that involves the opinion and creativity of every team involved.
Every giant company, such as Silicon Valley and Google, owe it all to this methodology. Google's growth skyrocketed from forty employees to more than sixty thousand employees, as of today. According to a survey by Weekdone, an average user of OKR is engaged twice as likely as an average employee in the USA. In fact, employees working in such a team remain active averagely more than six times in the world.
Make sure while setting objectives
While setting up your goals, your primary focus should be on growth. It could be as an individual or as a team or a company, but remember that these three growths may not be achieved in one hit. While setting up objectives, you need to ask yourself these questions;
Are we doing something new?

Are we doing something different?

Are we doing a significant amount of work than before?
The number of key goals needs to remain limited (less than 5) to ensure that only the most critical items are focused on. This will help in enhancing the skills, capacity, and capability of your team.
Key results expectation
Brainstorm the various ways you can produce the end results when you set your targets. Create your action plan to determine how your target can be met. Remember that the managers evaluate your success for each of the key results. Therefore, key results should be;
Precise

Measurable

Relevant to the objective
The more precise your goals are the clearer your expectations. Make sure that no further than four key results are obtained against each goal to achieve maximum emphasis.
Hence, a company that uses OKRs enjoys a lot more benefits in comparison to companies that don't. So, the first thing you want to do is to set goals that motivate, and the second step is to create a cross-functional team.
What is a Cross-Functional Team?
A cross-functional team is a group of people from various teams and institutional roles that come together for a shared goal or task. It is an approach that enterprise increasingly explores to reinforce its priorities of creating a clear vision and effective communication within and outside an enterprise, which can help to build a sustainable basis for future growth if properly implemented.
Nonetheless, it is more challenging to promote cooperation between organizations used for different standards and goals than to set a new technology structure and coordinating their objectives.
In this post, you will find several steps to guide you and your company to implement goals and OKRs in a Cross-Functional Team across organizations which can be established as a permanent part of effective business operation.
Ways to Set Cross-Functional Team OKRs in Your Company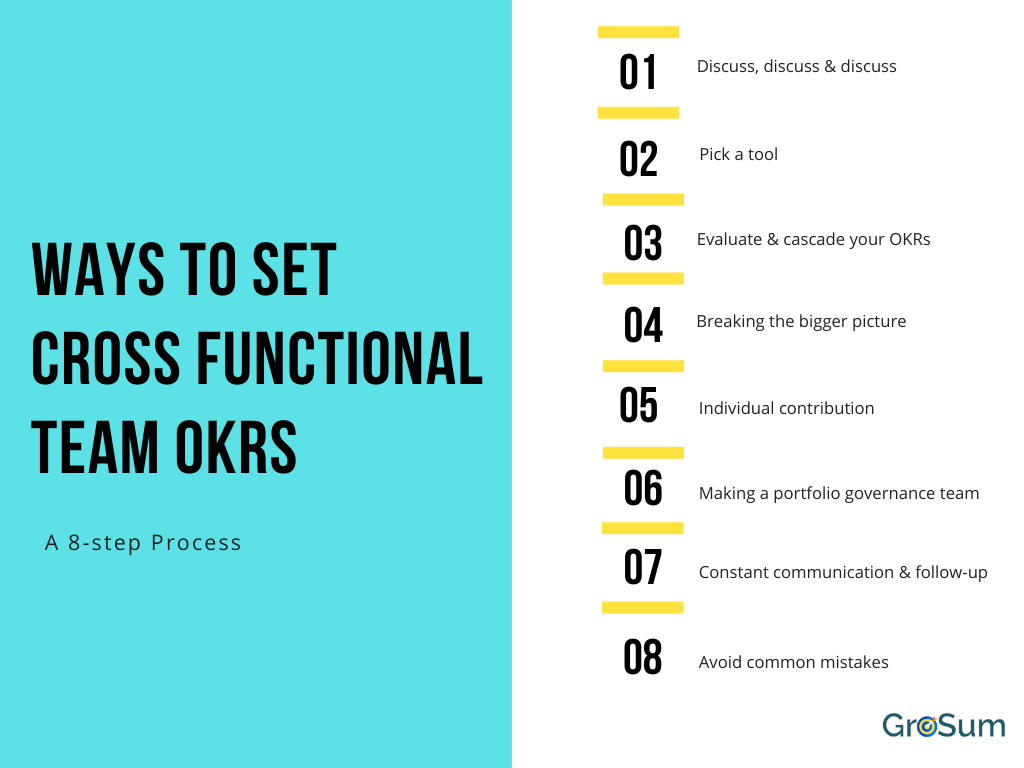 Step 1: Discuss, discuss & discuss
When implementing OKRs in a cross-functional team, the first thing to do is to ensure that everyone knows what this terminology is and is ready to use it. To explain this to the whole company, you may hold seminars or conferences. This phase is critical but very effective. Different teams have different goals and duties.
When people from various departments come together, the roles, goals, or even the languages may not be understood easily. Hence, when putting up a team, repeat your objectives on frequent occasions until it would be cleared.
Step 2: Pick a tool
To manage your OKR effectively, you must choose a tool. It could be a basic spreadsheet or a specialized program such as GroSum, or any reputable individual service assistance.
By using a specialized program, everyone can easily view, follow, and maintain their goals with much more ease. A specialized tool will also let you get more information about the past OKRs, which will help you to avoid the same mistakes made previously.
Furthermost, a specialized tool makes communication faster and easier among the team member. It also maintains and saves records that can be accessed by the higher hierarchy at any time.
Step 3: Evaluate & cascade your OKRs
OKR is built throughout a specified time frame. Normally, it is quarterly revised. But other time frames can be implemented and found out what's ideal for your business. Please take these two questions into account while drafting your OKR:
What should I do to grow?

Your

Objectives

will be established or refrained through this query.

How will I do this?

The answers to this question lead you towards the

Key Results

.
Your aim must be optimistic and simple. The most important key results are what make the objective clear. It must be measurable and contribute to the realistic evaluation. It is essential to recognize that the goals must be decided by all parties involved in the cross-functional team. They should not be governed or ordered. For each goal, fewer than 5 objectives must be specified at each stage with a maximum of 4 key results.
Each level in the organization must have different OKRs that should be defined for each; company, team, and individual. Some workers may have unrealistic organizational goals because they can't see how their positions contribute to the success of the company.
 For example, a paid employee might ask themselves, "How do I help my company reach 10,000 customers?" By cascading the objectives between the level of the company and the team and then eventually at the level of individual workers, the targets they may set to help the company succeed to become simpler. 
Set higher expectations so that all members of your organization agree with the vision of your business.
Step 4: Breaking the bigger picture into small ones
The targets of the organization must be identified first. These are usually written by the managing director or the executives since they know the important factors for the company. Secondly, the managers can hold meetings with the required teams to help them understand and break down their OKRs.
With that, all other grades must match their priorities and work out how they can contribute to the goals of the organization. A company's objectives and goals create a bigger picture, in general. However, in reality, this needs to be broken into smaller pictures so that every team can contribute to the company according to their level.
Step 5: How can an individual contribute?
Personal or an individual OKR describes the task of a single team member. This focuses on self-improvement and self-assessment. An individual should illustrate what has been done at the end of the set time.
To identify specific objectives, the individual can discuss the requirements with his/her leader. It's a discussion with the manager, and the two must agree to the specified target list.
Step 6: Making a portfolio governance team (PGT)
Stanford University's professor of research at management Benham Tabrizi discusses what forms of cross-functional coordination works and what doesn't work, in an article published in Harvard Business Review. He observed that almost three-quarters of cross-functional research groups were largely ineffective. He writes: "Teams struggle favors ambiguous leadership, lack of accountability, lack of specific objectives, inability to prioritize the succeeding of cross-functional initiatives."
They often did not succeed because there is a lack of a structural approach. In comparison, dedicated organizational leaders, whose roles themselves are cross-functional, have found successful alignments.
One way to get this kind of leadership started is to create a Portfolio Governance Team (PGT) that leads collectively to analyze and agree on a portfolio of many different cross-functional projects. Therefore, working collectively produces a sense of community, which in the scope of the PGT evaluation can provide a template of cross-functional teams.
Step 7: Constant communication & follow-up
In order to measure your accomplishment, you must evaluate your objectives and outcomes. It should be monitored every time and analyzed at the end of the given period. A quality performance is characterized by 60 to 70 percent rates. 
It's not a sign of failure if you do less than that. Perhaps your target was too high. Likewise, if you accomplish 100% of your objectives, they weren't really ambitious enough. The results of the approach must be explained at each level. It is also crucial to explain how the target has been achieved further. 
Learn from the past, OKR data for future improvement is a step to betterment. If you have not accomplished a goal, you can continue working on it, only if it is still important. Always remember to celebrate your little or big victories with the team. This inspires the employees to work more efficiently and enthusiastically next time.
Step 8: Avoid common mistakes
Do not pressure people to establish the OKR, or dictate its priorities.
Do not set your OKRs from the bottom up.
Do not set too many goals or key results.
Your key results should be measurable.
The targets must be well-timed.
Do not mark your tasks as key results.
Do not use OKR for payment or quality appraisal scheme.
As a manager or an executive officer of your company, you must look for the best method for your team. From finding the right team to breaking down the Silos and achieving your goal, your focus should not lie in one place.
Tools to ease your job
Once all the hurdles are removed, a cross-functional team can perform wonders given the right tools. Here are some tools that are currently being used, not just in the tech world but also in the business world. These tools help set the team goals and achieve a systematic and progressive way to follow them as a team as well as an individual. Every now and then, you should get a specialized tool to help you reach your target in this ever-competitive world. Here are the five most frequently used tools that you may look for your company;
Taskade 2.0.

Zenkit

Weekdone

Google Sheets

Koan
Conclusion
This fast-paced society is continuously demanding advancement and change. Nevertheless, organizations that do not take advantage of the Objectives and Key Results' theory remain tied up in outdated performance evaluation processes. So, to survive this ever-changing world as a company, you must grow smartly. Now that you are aware of how to incorporate OKRs in your company, you can find out the best way to make your company improve for the betterment and grow beyond borders.
Author Bio
Amanda Jerelyn is the Content Strategist at King Essay. She has a professional way to research, promote, and create content. She has previously worked for Crowd Writer as a team leader in various departments. Amanda's commitment to growth lies in dynamic and informative content that guarantees value for targeted clients.