What if I told you there was a simple, yet very effective way to keep your employees engaged and productive? Well, there is. Have you heard about the one-on-one meetings? One-on-one meetings with employees are the secret weapon of every successful manager. In this article, you will discover 5 tips for conducting awesome one-on-one-meetings that your employees will love!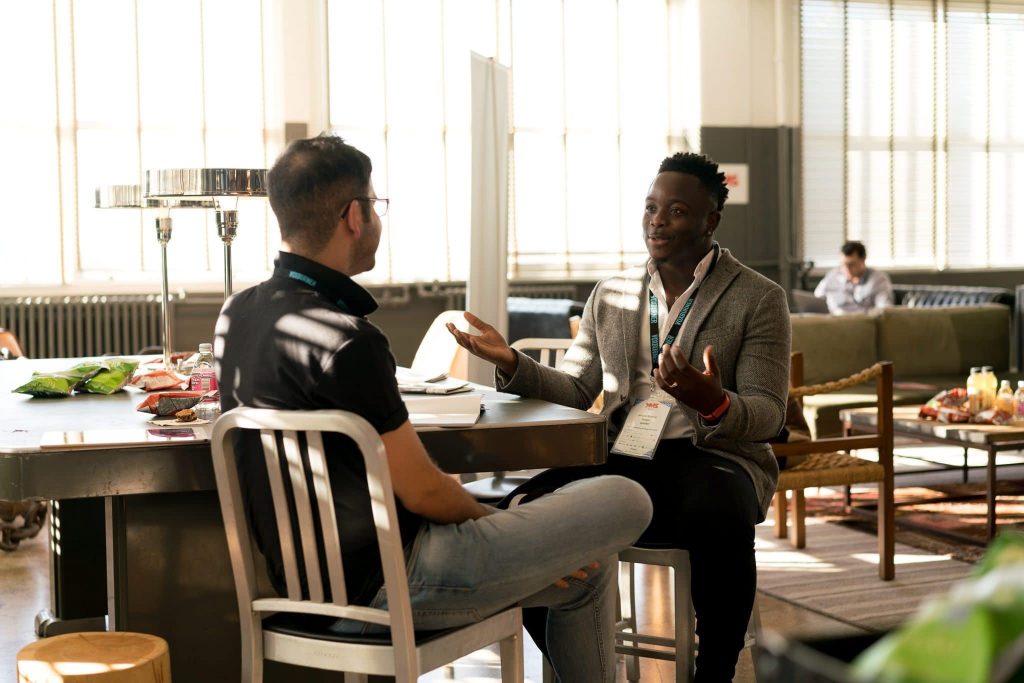 Photo source: Pexels
What are one-on-one meetings?
The concept of one-on-one meetings is rather simple: it is a recurring dedicated meeting held between a team leader (manager) and the team member (employee). One-on-one meetings are usually held once a week or two weeks and last for 15 to 30 minutes.
Basically, it means that each week a manager sits down with each of his or her direct reports for about 15 minutes to have a conversation. These meetings provide an opportunity for managers to check in with each of their direct reports and discuss what is going well and what needs to change.
In these meetings, the manager and an employee have the chance to catch up, go over the achieved goals, celebrate the wins and address occurring challenges. It is a quite simple, yet very powerful meeting technique – if done right.
When implemented correctly, these brief, weekly check-in meetings ensure higher employee engagement and productivity. Before we dive into explaining how to conduct awesome, effective one-on-one meetings, let's take a closer look at the most important benefits they offer.
Effective communication can accelerate change, foster collaboration, ignite employee engagement, bolster morale, cultivate accountability and create shifts in behavior.

– Mike Evans, Author, Speaker, Managing Partner of QuestMark
Key benefits of one-on-one meetings
One-on-one meetings are one of the most valuable tactics practiced by successful CEOs, executives, and managers. This super simple meeting technique holds the power to transform not just your team but your whole company and the way you do business.
One-on-one meetings first appeared in tech companies and startups in Silicon Valley. However, this trend of this Silicon Valley-style meetings quickly spread and it is now used among the most successful companies such as Facebook, Google, Apple, etc.
According to Mark Zuckerberg, CEO of Facebook, one-on-one meetings are the best way to lead. As Zuckerberg puts it: One-on-one meetings are "a key way in which we share information and feedback and keep stuff moving forward."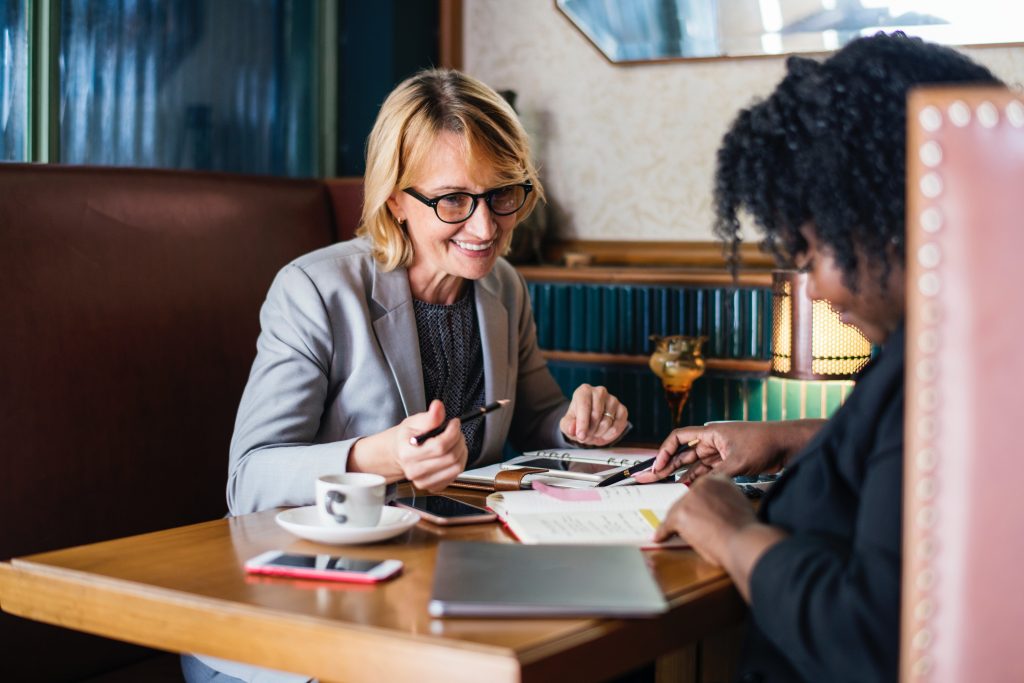 Photo by rawpixel.com
Research confirms that one-on-one meetings are crucial to the team's success. Soapbox's survey of over 1,000 managers and employees reveals that while both managers and employees agree that one-on-one meetings are incredibly important.
Regular one-on-one meetings create an opportunity for team leaders and team members to:
Build a strong relationship

Stay informed and aligned

Provide mutual feedback to help each other grow

Address roadblocks and challenges.
As a result, one-on-one meetings have many benefits, such as:
Higher engagement

Better performance

Greater productivity

Improved retention.
One-on-ones are a fantastic way for managers to build successful teams. Employees who have regular check-in meetings with their managers get timely feedback and help if they need it. Consequently, they are more engaged and productive.
How to conduct awesome one-on-one meetings?
Now that you've learned about the many benefits that come from conducting one-on-one meetings with employees, you're probably wondering how to implement this powerful practice. How can you create one-on-one meetings that no one wants to miss?
Here are my handy-dandy tips for getting the most out of your one-on-one meetings:
Tip #1: Prepare
Even though one-on-one meetings should be conducted in an informal and relaxed atmosphere,  they still require a bit of preparation and structure in order to be effective.
First of all, send a recurring meeting invitation. Whether you decide to hold these meetings once a week or bi-weekly, make sure to be consistent. Set up these meetings at the same time on the same day of the week.
The next thing you should do is to prepare the topics you would like to go over in your meeting with an employee. You don't have to go in on details – simply jot down a list of bullet points that you'd like to discuss.
You should also ask your employees to do the same. Both of you should come to your one-on-one meeting with a list of topics you would like to discuss. You can even have a set of categories that you cover every single time. For example, the categories could be the following:
Challenges (roadblocks)

Opportunities (for improvement)

New ideas

Any other specific issues.
Remember that your meetings shouldn't take more than 30 minutes, so keep the agenda short and simple.
Tip #2: Build trust
I'm deeply convinced that the success of one-on-one meetings depends on the manager's ability to build a trustful and honest relationship with their employees. If you want your employees to trust you, they must believe you have their best interests at heart.
Show them that you're unconditionally on their side, even when you have to give them negative feedback. This is especially when they need to feel that you're rooting for them. Always keep in mind that your role is to support them on their way to success.  
It is important to occasionally show employees where they need to improve as people generally respond more strongly to negative events than positive ones, it is vital for managers to learn how and when to give negative feedback
– Rajesh Padmanabhan, Director, and Group CHRO at Welspun Group
The basis for gaining your employee's trust and winning their respect is the skill of active listening. Talk less, listen more. If you need to talk, refrain from giving advice. Instead, ask questions. By asking questions instead of offering them solutions, you'll train them to come to you with suggestions for improvements, not problems and excuses.
Tip #3: Review goals
One-on-one meetings are great employee goal setting tool. They offer an opportunity to reflect on your team's goals. Each week you can check in with your employees and review progress towards each of their performance goals.
A great way to do it is to ask your employees to do a self-appraisal. Encourage your employees to review their own performance. That way, you'll avoid an ungrateful task of telling your employees what they did well and where they are failing.
In my experience, most employees scrutinize their own performance in a realistic way and assess their own strengths and weaknesses very accurately. This will allow you to address their weaknesses in a friendly atmosphere and find areas for improvement together.
Tip #4: Work together
Once you've identified the challenges and roadblocks, the next step is working together to solve them. Work with your employee in order to come with the action plan designed to successfully tackle the obstacles they are facing.
The important thing to remember is that you should collaborate with your employees on an equal basis. Try to come up with a solution together. Don't dwell on the problem and avoid the trap of assigning blame. Focus on finding a solution.
If your employee comes with a serious problem or a challenge that you don't have the time to properly address in your one-on-one meeting, schedule a time to go over it the next day. Show your willingness to address the issue and make the time for a brainstorming session.  
Tip #5: Follow up
Send a follow-up email after each of your one-on-one meetings. This email serves for you to thank you employees for their time and effort and to shortly summarize key decisions and next steps.
My next tip is really important: Deliver on your promises. For example, if you promised your employee that you will meet with them for an additional brainstorming session, schedule it right away. If you offered to send relevant literature, attach it to the follow-up email.  
The final step in conducting successful one-on-one meetings is evaluating them. Ask your employees for feedback. You can simply ask your employees do they like your meetings and if they find them useful. However, in my experience, you will gain a better (read: specific and actionable) feedback by asking one simple question: "What can I do to make our one-on-one meetings more useful for you?"
About the author
Anja Zojčeska is a Human Resources Manager and Content Marketing Specialist at the recruitment software company TalentLyft.  She is curious about the latest marketing trends and passionate about applying them in recruitment.