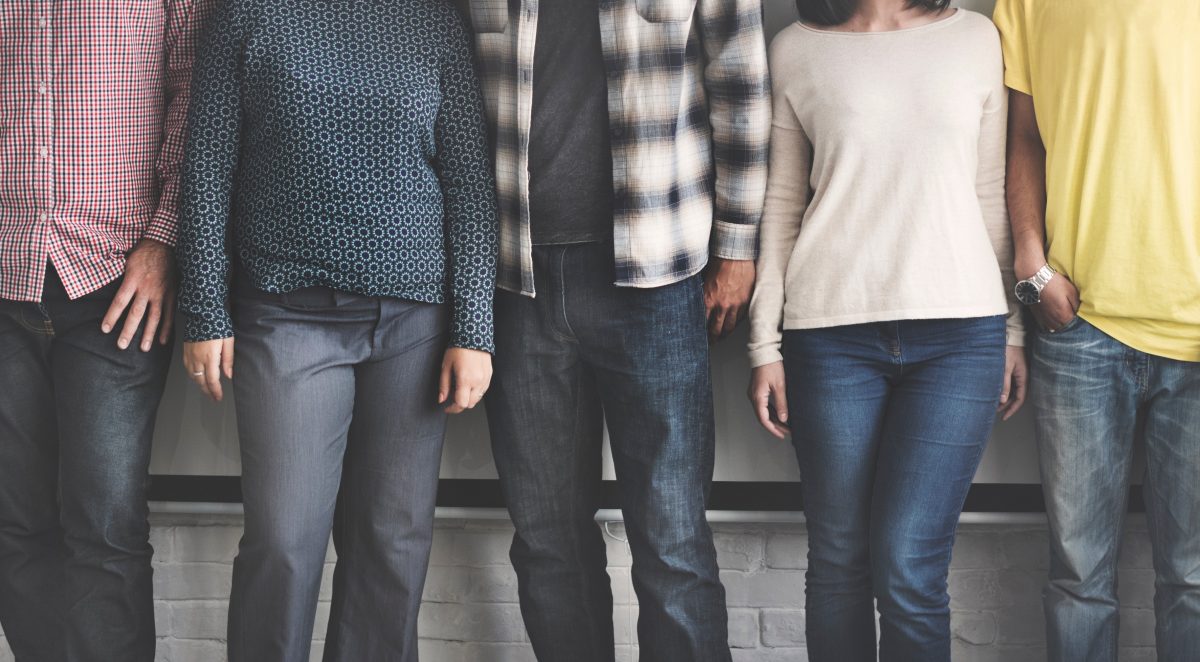 We all know that diversity matters and workplace diversity is something that is unavoidable. Yes, workplace diversity is more than a fad, since it guarantees direct and tangible benefits to a business. In fact, businesses with better workplace diversity outpace their competitors whilst generating higher profits.
Workplace diversity is proven to drive ROI, help spur creativity and nurture a productive workforce. In fact, businesses that accentuate on workplace diversity are 30% more likely to stay ahead of their competitors.
Before we jump onto the tangible benefits of workplace diversity, let us first find out why diversity in the workplace is more important than ever:
Simply put, workplace diversity is about a business employing a diverse range of employees or individuals. In other words, it is about employing individuals with varied characteristics. This includes individuals of varying language, religion, sexual orientation, ethnicity, religion, race, creed, abilities, education, etc.
Businesses across the globe need to wake up to the fact that diversity in a workplace is the 'key' to success and making a lasting impact on a global platform. Unfortunately, a whopping number of businesses are failing to understand the benefits and impact that workplace diversity can bring in.   
Benefits of diversity in the workplace are manifold for a company. Of all the umpteen benefits, the biggest benefit is that a company witnesses a spike in the levels of innovation and creativity that emerge when there are diverse viewpoints coming in from a diverse set of people. According to a Forbes research that studied some 250+ companies, more than 80% agreed with workplace diversity as the key driver for innovation.          
Another reason why diversity in the workplace is recommended is that it helps a business to appeal to a broader and global demographic. Employing people from diverse backgrounds, cultures, religions, ethnicities, etc. is a huge turn on when it comes to attracting a diverse range of customers and talents.
Here are six handpicked and tangible benefits of diversity in the workplace: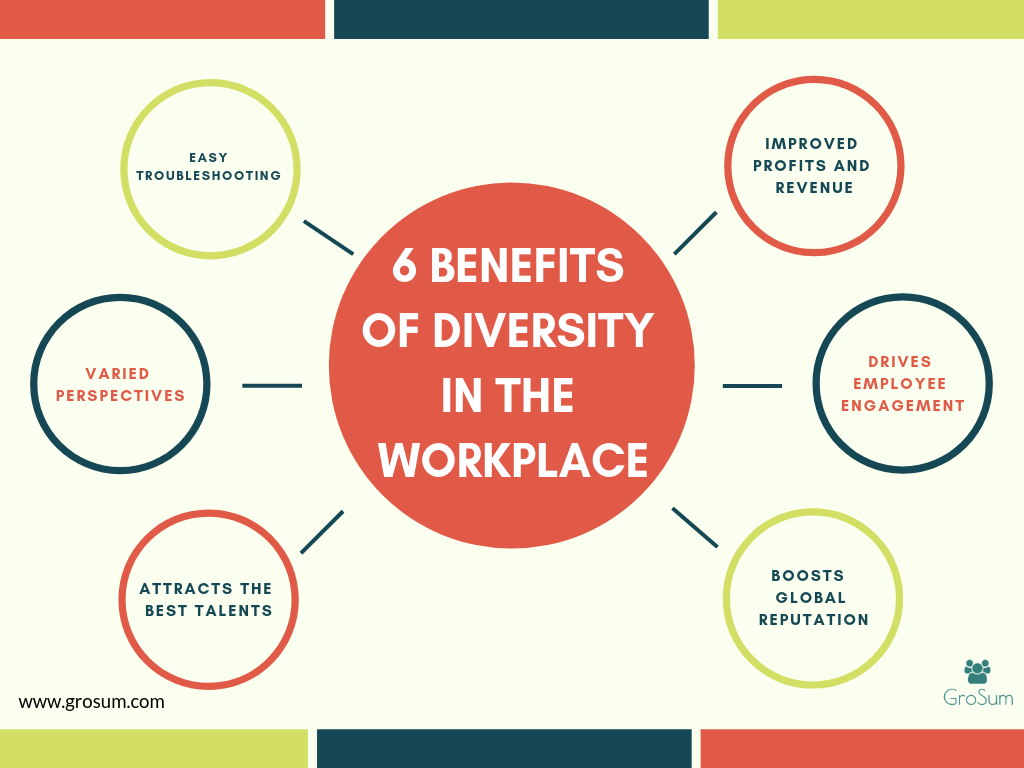 #1 A diverse team is more productive, innovative and brings in varied perspectives
Yes, a diverse workforce performs better and is good at coming up with novel ideas to get things done. Having a team of employees that bring in varying backgrounds, skill sets and experiences are more likely to come up with more innovative ideas as well as brainstorm much better. In addition, workplace diversity helps foster a comfortable work culture. For instance, having one woman in a team of nine people has its own benefits, since that woman might come up with some outstanding ideas. Diversity is the key to excelling at work. Further, employees working in an organization that promotes workplace diversity enjoy access to a range of perspectives, which is a boon when it comes to devising and executing key business strategies. Long story short, if a business fails to nurture a diverse workplace culture, it is simply losing out.  
#2 A diverse workforce is quick at troubleshooting
Yes, businesses with better workplace diversity are able to solve problems much faster. According to Harvard Business Review, a cognitively diverse workforce is able to face and solve problems faster compared to cognitively similar individuals. Employees when coming from diverse backgrounds bring in varying views, experiences, and approaches to problem-solving. This is the reason a diverse workforce is at a far better place when it comes to bringing a diverse solution on the table.    
#3 A diverse workforce means improved profits and revenue
Businesses with the highest levels of workplace diversity reported 10 times more sales revenue compared to companies with low levels of workplace diversity. Yes, businesses with higher levels of workplace diversity are known to attain greater profits. According to a McKinsey & Company report, businesses with higher workplace diversity perform financially better compared to their counterparts. As businesses with a diverse workforce make sound business decisions at a much faster pace, it gives them a clear advantage over their contenders. Thus, businesses with diversity in the workplace tend to achieve better results and profits.     
#4 Workplace diversity attracts the best talents
Workplace diversity not only drives a company's culture but also helps better talent. According to a recent Glassdoor report, more than 50% of individuals deemed diversity in the workplace as a primal factor when it comes to deciding whether to work with a company or not. This is the reason it is important for businesses to incorporate diversity in the workplace to attract as well as retain top talents. Diversity is not a tag for a single person, as it's a collective label for a group or team of people. By advocating diversity in your workplace, you allow every single employee in the company to feel content and comfortable. Eureka! Did I mention reduced employee turnover rates!     
#5 Workplace diversity drives employee engagement
Diversity in the workplace leads to improved employee engagement. According to a recent human resources report, engagement is directly related to diversity in the workplace. Long story short, the relationship between employee engagement and workplace diversity is quite straightforward i.e. when your employees feel comfortable, content and included, they tend to be more engaged.
#6 Diversity in the workplace boosts the global reputation
It is more than likely for a company to work with vendors or clients from across the world. As the competition scales up on a global level, it is imperative for a business to follow suit. Thus, by employing employees who are able to speak varied languages and/or understand diverse cultures, a business is more likely to taste success on a global platform. Yes, a business today would need a diverse workforce that brings in diverse cultural backgrounds to the table in order to deal with foreign challenges as well as serve global clients effectively. Long story short, diversity in the workplace can go a long way when it comes to driving a company's brand and reputation in both domestic as well as international markets.    
---
Check out this amazing infographic by Talentlyft on The Benefits of Diversity in the Workplace
Takeaway
We are dealing with the most intelligent breed of customers today. Yes, customers, today prefer to speak to a business or brand that better understands their concerns or issues and provide prompt and personalized solutions to them. By employing a diverse workforce with varied cultural backgrounds and experiences, a business is more likely to nurture employees who are pro when it comes to empathizing with its customers and provide personalized and better solutions.    
Diversity in the workplace also helps a company appear more engaging and interesting. Last but not the least, if you employ a diverse team of people, you in a way make it a lot simpler for several different folks to relate to your brand and company thereby, paving the way to new business, customers and markets.
About the author
:
Anwar Shaikh writes about employee engagement, human resources management, startups, leadership and business process automation. A self-made writer and Digital Marketing Manager, Anwar writes for Pocket HRMS, a leading provider of cloud-based HRMS solution to small and mid-sized businesses/startups across India.