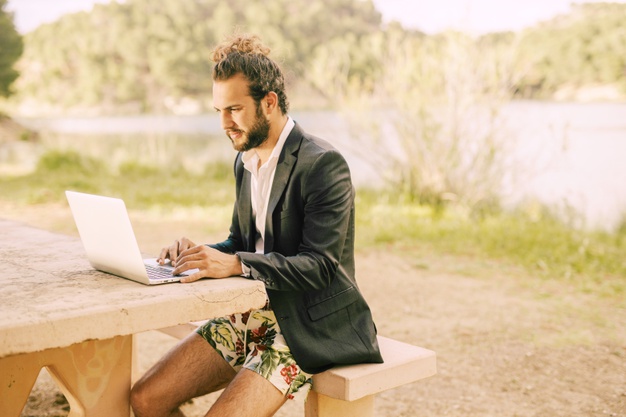 Remote working is on the rise and reflects the pace of change within society as to the way that we work.
The opportunity offered by technology to enable remote working, and the increasing expectation amongst employees of consideration of their wellbeing, and a balance between work and life, create forces driving a rise in remote working, as well as flexible and agile working approaches to working.
The requirement of work is also changing, as the trend moves from attendance and presenteeism, towards outcomes, results, and performance. It is not where we work, but rather the outcome of that work that is given priority by successful organizations. Work is seen increasingly as an activity and not a place.
It is also clear that the ability to work remotely is intrinsic to the employment relationship.
ADP's study The Evolution of Work: The Changing Nature of the Global Workforce identified freedom as a basic human need, and that 81 percent of modern employees feel positive about being able to "work from anywhere in the world." In addition, 49 percent of employees believe that the future of remote work is already happening today.
Rewards of Remote Working
The rewards of remote working can be seen in four key areas;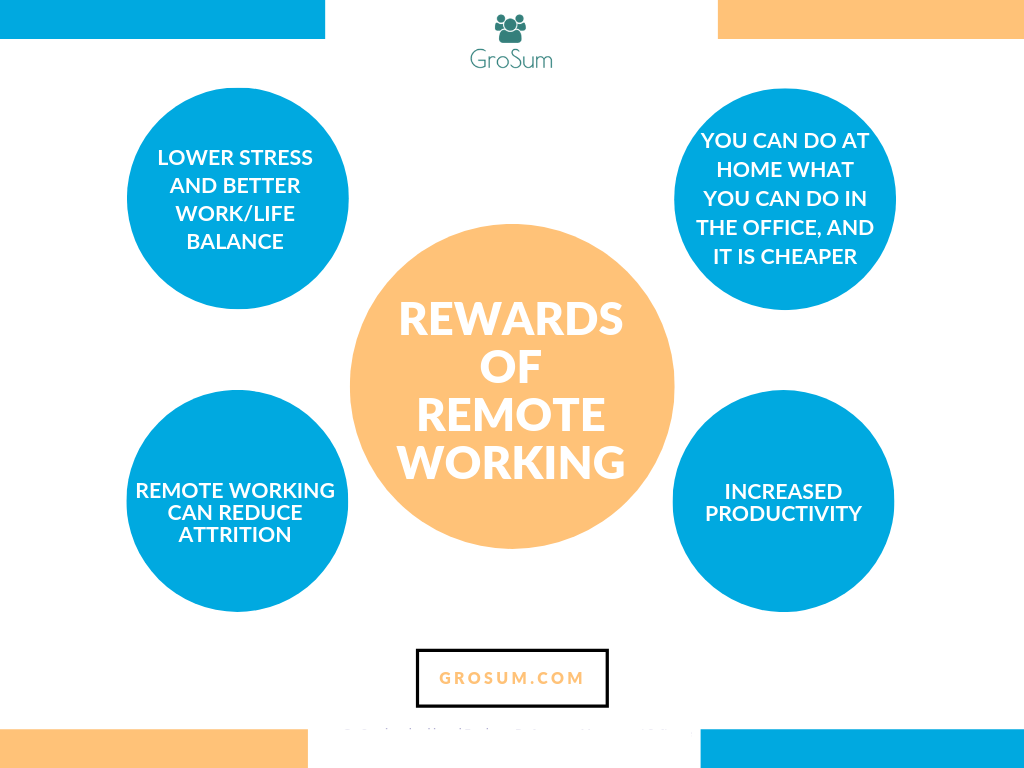 Lower stress and better work/life balance
Studies suggest that remote workers have lower stress and improved relationships and more opportunity, for example, to exercise, and for general work/life balance, and can, therefore, be better engaged and motivated.
You can do at home what you can do in the office, and it is cheaper
Technology affords the chance to work effectively and with great performance, through wifi, and communication networks and tools. In addition, there is no commuting time and cost, and fewer business overheads due to less need for office space, and there is a smarter approach to the use of office space.
Remote working can reduce attrition
Retention is improved according to research by remote working, but equally so is attrition reduced. Remote workers are often keen to show the success and benefit of the working arrangement and show great commitment and deliver high-quality work.
Increased productivity
We could say the fundamental reward of remote working as an integral part of the way work is undertaken, according to evidence, is that employee productivity and engagement is increased. The Harvard Business Review (HBR) reports that employees, "were not only happier and less likely to quit but also more productive" than a group working in an office.
However, HBR also reports that poor productivity is often symptomatic of underlying cultural issues, such as mass disengagement or low morale, and not necessarily representative of the typical remote worker.
This suggests there are risks to remote working that organizations need to be aware of.
Remote working has several rewards which can be of considerable benefit to organizations but also carries risks that organizations have to be aware of and adopt strategies to counter. Equally, employees have risks to consider in order to properly exploit the rewards of remote working in terms of flexibility and work-life balance.
Risks of Remote Working
Let us consider four key risks with remote working that must be considered and organizations must guard against;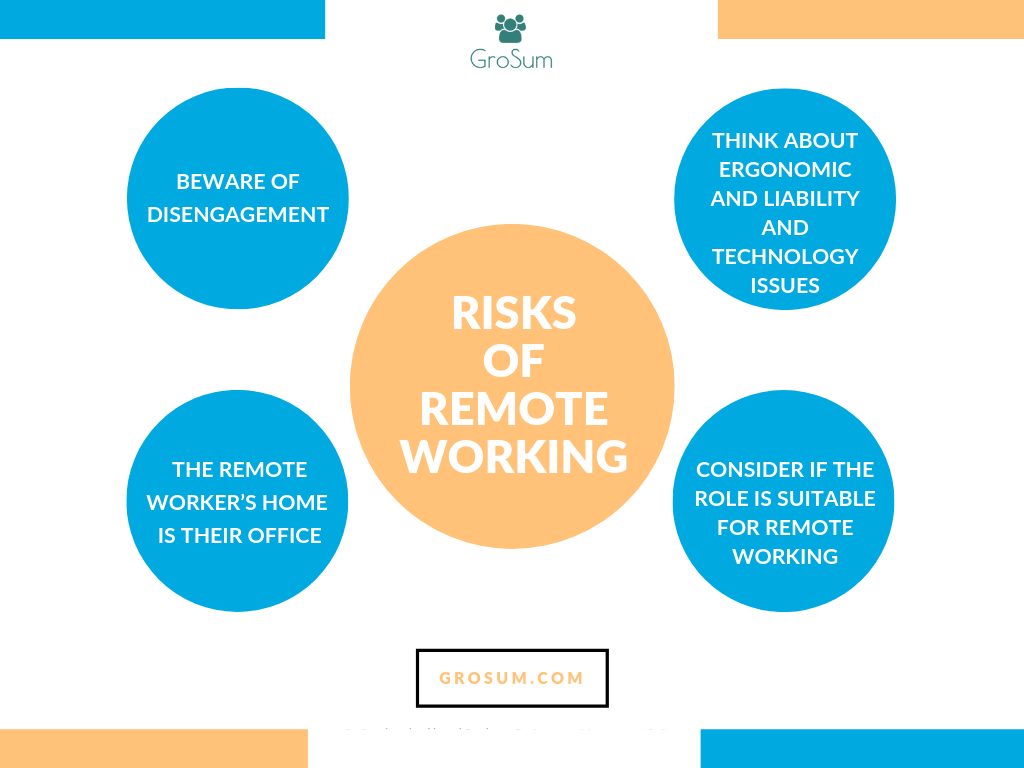 Beware of disengagement
Remote working is different from the office where you are constantly interacting with other employees, and the challenge is around communication and disconnection with the culture.
I was reminded of this by a recent conversation where I was told by the person that remote working is not the same as just being able to tap someone on the shoulder and let them know something. Also, she mentioned when she was in the office, she overheard another conversation which almost became a blocker for her, and then was able to mitigate that blocker by interrupting the conversation and suggesting how the team could all resolve it. She also added that in the office you get the water cooler moments, and the "bump into someone you have not seen for a while and catch up" scenario, which are opportunities not afforded by working remotely. So using technology such as video conferencing to help at every opportunity to include the remote worker, can mitigate this challenge and help keep the remote worker included and engaged.
Think about ergonomic and liability and technology issues
Considerable attention is paid to making the office suitable for working and so a similar consideration must be given to the remote worker. The provision of proper equipment, ensuring a high-quality internet connection exists, and thinking of ergonomic considerations such as the layout of the home office, and any liability possibilities, are fundamental areas to consider in order to address any risks in this regard.
The remote worker's home is their office
This brings a risk if the employee is using remote work as a way to avoid third-party care, or lives in a disruptive environment, as that can distract from work. In addition, the lack of distance between home and office can disrupt the work-life balance. So the organization has to think of this in keeping the remote worker engaged, and goals and parameters agreed and ensuring the remote worker is fully included in the team.
Consider if the role is suitable for remote working
A role that is not arranged to be suitable for remote working is not likely to be a successful arrangement. It is important to consider that the role can be performed successfully without the need for continual face to face interaction, and the employee is capable of being independent and can work remotely with good performance and results.
Take away
Organizations globally use remote workers to a much greater degree than ever before, and they need to understand the rewards, but also the risks to both their remote workers and their organization. If they address and mitigate those risks of remote working then they will ensure that they exploit the rewards of remote employees who are engaged, productive, and collaborative, and this, in turn, will contribute greatly to the success of the organization.
If you would like to have a remote job here's the site to help you find the job of your dream!
Use DottedSign, to close deals on the go by signing remotely on any device or desktop via secure cloud with your customers anywhere, anytime.
About the author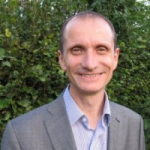 Kevin Lyons is Senior HR at Pearson in London, the FTSE100 organization, and the world's learning company. Kevin's passion is Talent, and what he sees as the twin pillars of Talent Management, Diversity & Inclusion combined with Learning & Development, along with his interest in Wellbeing. He is also fascinated by the impact of technology on HR and wider society. Kevin has a career spanning Human Resources in leading companies and is a regular voice and commentator in media with his views regarding Human Resources.