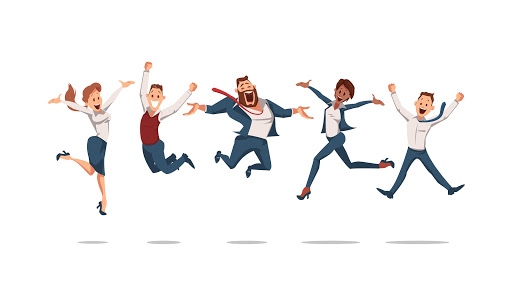 Every employer claims to value employee morale, but few actually take steps to improve the working conditions and experiences of their employees. When executives want to focus on morale, they often get distracted by other important issues that need to be addressed to keep the company running.
However, employee morale really is an essential company issue. Studies have found that companies with high levels of morale have 26% higher revenue than those that don't. As you will see, employee morale is a profits issue.
So, how can you improve employee morale? It takes more than a few employee outings and birthday celebrations. Follow these steps to audit your current operations practices to see where your morale is low.
1. Communicate with Your Team Members
Your employees understand that you can't tell them everything – there is information that is confidential or irrelevant to their jobs. However, if your team members start to think that you are deliberately hiding information, they will start to get suspicious and lose trust in your management team.
Communication shows that you respect and care for your team. When you share good news and are honest about bad news, you show that you believe your team can handle the responsibility. Oftentimes, management tries to limit information to only executives and essential staff. They don't want to worry about their employees or create gossip, which typically has the opposite effect. Employees often assume the worst and may gossip further with each other until the actual news comes out.
When you communicate, you let your staff know that everyone is in this together as a team. You trust your employees as adults. You will support them through hard times and let them know when potential problems arise.  
2. Invest in the Careers of Your Staff
One of the best ways to boost employee morale without paying your staff extra is to invest in your team. According to a survey by Gallup, 59% of millennial employees say opportunities to learn and grow are highly important to them. Comparatively, 44% of Gen Xers and 41% of baby boomers say the same thing. Your team members don't want to work in dead-end jobs. They want their employers to recognize them and help them grow.
Workplace development will keep your employees interested in their jobs, but it can also serve as a tool to recognize them for their work. Your staff will feel rewarded for their talent with the ability to do more exciting and challenging work.  
3. Keep Your Mission and Objectives Clear
One of the best questions your employees can ask is "why." They want to know why they are working to accomplish something, why a process is done a certain way, and why they should care. Companies that care about employee satisfaction will answer these questions and encourage them to ask more.
When your employees have clear goals and a mission in mind, they can come up with new ideas to achieve it. They can be innovative and creative. For example, if you want to offer the best customer service in your industry, your team members can identify sticking points with customers and opportunities to streamline processes. This is better for your company in the long run than simply expecting employees to do whatever you tell them.
A clear mission can also make your team feel like everyone is working on the same team to accomplish their goals together. This builds camaraderie and a sense of purpose in the work.    
4. Pay Your Employees
This may seem like an obvious concept, but many companies have a hard time paying their employees on time and accurately. First, your in-house team is sensitive to changes in company finances. If your employees don't think you can pay them, they might panic and start looking for more stable work.
Next, your contract and freelance workers want to get paid quickly and expect to be paid well. If you undervalue your contractors or take several months to pay them, then they will find other work elsewhere. This means that your talent pool shrinks as the best contractors stop working with you.
Make sure you have a reliable payroll management system and simple employee time clock software to pay your team members quickly. Otherwise, your morale problem will become an employee retention and acquisition problem as well.
5. Take Time to Recognize Your Staff
It is easy to get so busy in your day-to-day work that you don't recognize your employees. You need them to work harder and are so absorbed with deadlines that it is hard to see the forest for the trees.
However, no matter how busy you get, you can always set aside time to recognize your team and thank them for their work – this only takes a few minutes. A few kind words in a meeting or a carefully-crafted email can do more to boost morale than any team-building activity can.  
Keep in mind that not all employees want a big public announcement about their work. While these are nice, some people might prefer a one-on-one meeting of congratulations or a hand-written note of appreciation. Learn what your team members prefer so you can show your recognition in the best ways possible.
6. Make Sure Your Morale-Focused Activities Are Meaningful
When companies try to boost morale, they often turn to team lunches, outings, and other get-togethers. However, your employees can easily tell when you are doing this just to placate them or are targeting the efforts to lower-level employees.
For example, a birthday celebration with five minutes of cake and a gentle reminder to get back to work won't boost morale. Neither will an employee luncheon that executives are too busy to (aka don't want to) attend. These efforts are band-aids on problems and don't address the real issues of distrust and lack of communication.
If you are going to introduce morale-building activities, make sure your entire team is on board. These morale programs won't work if only half of your staff cares. Additionally, be genuine about the activities you choose. Find something your team loves and give them time to enjoy it. If you are going to launch an initiative like this, make sure you are doing it right.  
7. Identify Low Morale Within Your Staff
While many of these steps focus on high-level ways to boost morale, managers also need to look at individual team members and identify where morale is low. While morale may be high in the vast majority of the company, certain teams might be overworked or distrustful of each other. You may need to take certain steps within a specific team to work on morale or change the attitudes of those employees.
For example, one team might feel like they are never recognized while other teams get all the praise. Moving that one team to a new location or involving them in other projects can better help them realize how valued they are and boost their morale – without having to make sweeping changes across the organization.
Take away
A few small changes to employees with low morale can have a big impact on your overall organization.
Many leaders confuse employee morale-boosting with adding perks. They think employee get-togethers and office lunches will boost morale. While these tactics can help companies, they won't solve the deeply-rooted problems associated with distrust, poor communication, and a lack of pay.
About the author
Christine Soeun Choi is a digital marketing associate at Fit Small Business. Currently based in NYC, she has a background in business studies and math with a passion for business development. Outside of work, Christine enjoys taking photos, exploring artwork, and traveling.